The sirens of crypto: Wash trading epidemic continues with $6b in false volume
According to a report by the Blockchain Transparency Insititute (BTI), the top 100 exchanges listed on CoinMarketCap are involved in wash trading on a grand scale.
The report tells of how numbers within the stated daily trading volume are hugely exaggerated, alleging that over $6 billion in trading volume (over two-thirds of total daily volume) is completely fabricated.
Last month CoinMarketCap addressed concerns relating to overinflated trading volume data, by introducing "adjusted volume" parameters. However, this still left many unanswered questions, leaving the BTI to conduct an investigation using their own system which uses website traffic and order book research to provide "true exchange volumes".
Differences are shown between exchanges such a Bittrex, Kucoin, Bithumb and Cryptopia as their fairly high unique visitor amount doesn't correlate to their moderate volume, proving that their volume is being reported accurately as they could have easily faked this. In contrast to this precedent, exchanges such as Lbank and ZB (listed within the top 10 exchanges on CoinMarketCap) claim to have a trading volume of $214,000 and $74,000 respectively, per visitor, per day.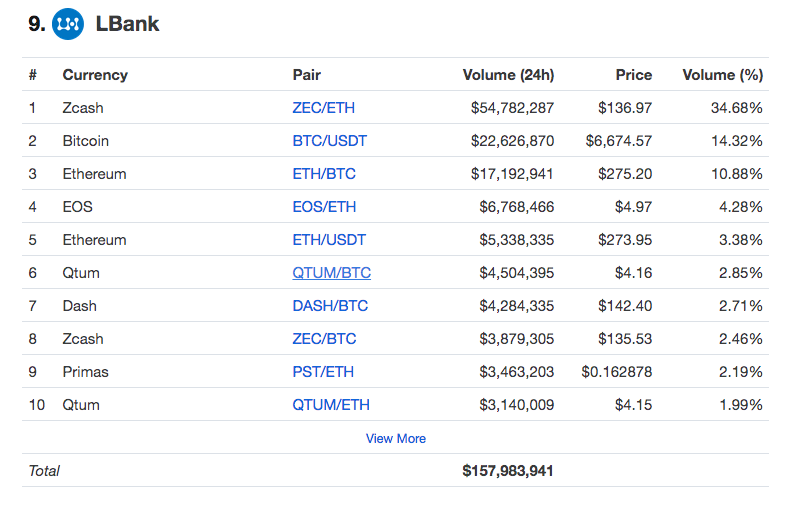 Compare this to the well known and highly liquid markets of Bitfinex and Binance (who's volume/unique visitor numbers fall between $5000 – $8500 a day) and it is clear to see that the aforementioned ZB and Lbank exchanges (amongst others) are massively overstating their trading volumes.
"The accurate exchanges outside of the big money exchanges typically have a volume/user to unique visitor ratio of around between 2% and 5% (3.5% average). The suspect exchanges ratio ranged wildly from 10% up to over 655,000%." states the BTI report.
This probably hurts investors "up to 90% of referral volume from new and aspiring exchanges comes from rankings pages with up to 83% from CMC alone, providing the motive for many exchanges to grossly overstate volume through wash trading practices."

— CZ Binance (@cz_binance) August 26, 2018
Wash trading is a form of market manipulation used to create misleading and artificial marketplace activity in order to draw in further investors. One of the biggest offenders was found to be Lbank, which the report alleges is wash trading their volume to over 4400x the amount it should be.
Other suspects include well-known exchanges such as Huobi and Okex which the BTI estimate are faking 80-90% of their total volume.
The BTIs new "accurate" list of the top 130 exchanges puts Binance 1st, Bitfinex 2nd and Coinbase in 3rd. The exchanges to cover the most ground are Kucoin and Cryptopia coming in a 19th and 26th place respectively
From this kind of investigation Its easy to see why the SEC keep citing manipulation when rejecting crypto ETF proposals. This is why regulatory initiatives such as the Virtual Commodity Association, set up by Gemini exchange owners, Cameron and Tyler Winklevoss are so important to this space.