Bitcoin Cash usability in commerce is waning
According to blockchain analytics firm Chainalysis, the fourth largest cryptocurrency based on market capacity, Bitcoin Cash (BCH) is finding a hard time achieving mainstream usability in commerce.
In a recent Bloomberg report, it outlines how Bitcoin Cash is failing to win over merchants and consumers as it is not being used as a traditional currency. Interestingly, the coin has historically had higher levels of usability in commerce, according Chainalysis, but a significant decline over time is noticeable.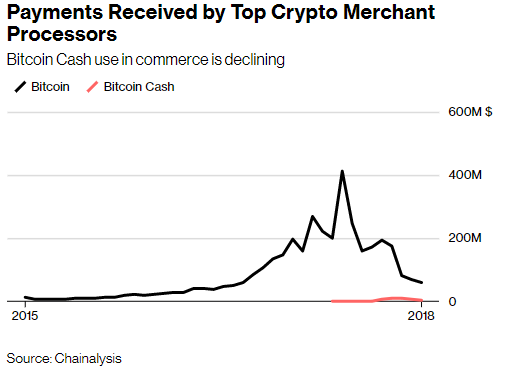 Bitcoin Cash (BCH)'s current usability mirrors its price decrease which accounts for 75 percent this year. Other cryptocurrencies, such as Bitcoin (BTC) also saw a price drop of around 55 percent. The biggest concern for BCH, according to a senior economist with Chainalysis is that "there are fewer users of Bitcoin Cash, fewer holders." Adoption in commerce is likely related to the fact that 56 percent of all BCH tokens are held by just 67 cold wallets that aren't listed on any exchanges.
The feud between BTC and BCH rages on, it is uncertain whether BCH will see widespread adoption and as some BCH evangelists, such as Roger Ver believe, "the long-term price of a cryptocurrency is a function of its usefulness as a currency."