BitMEX goes offline, Bitcoin spikes by $300; what does this mean for the market?
The crypto market spiked yesterday, allegedly due to scheduled maintenance of the crypto exchange, BitMEX. But what does this say about the integrity of the market?
Most cryptocurrencies are still feeling the result of the spike:
The total market cap of all cryptocurrencies spiked by $12 billion in just over an hour with Bitcoin catapulting up to $6,700 an impressive $300 gain: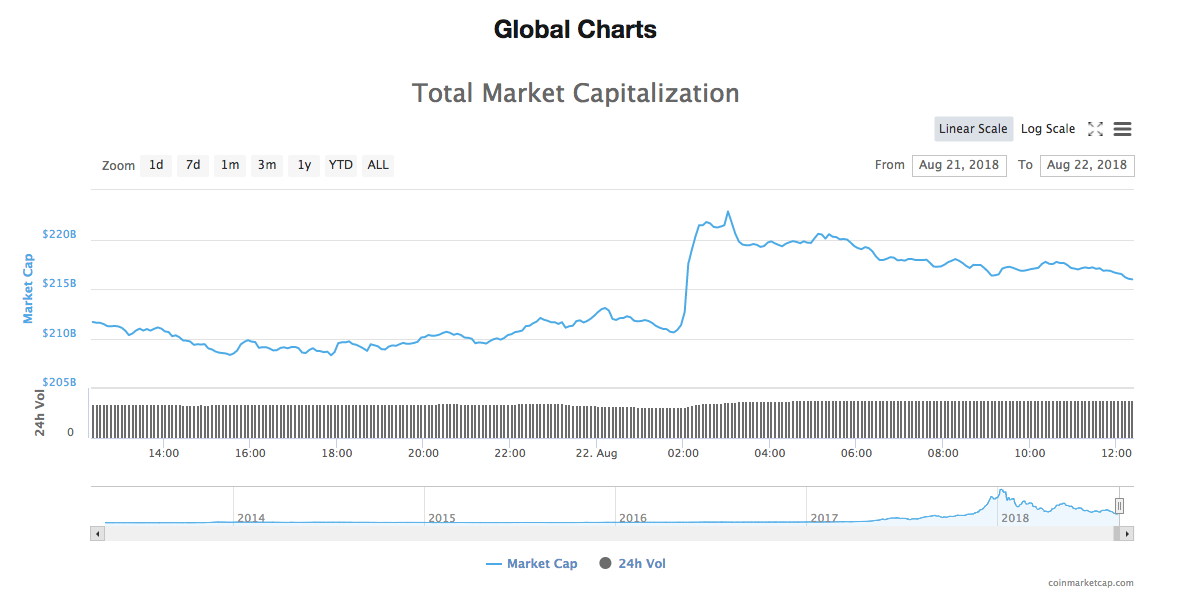 Acording to many, the spike occurred just as BitMEX began maintenance. One twitter user even managed captured the precise moment of the price jump:
the moment @BitMEXdotcom went offline pic.twitter.com/OxppDispgb

— CamelBusBananaWomp (@CamelBus_) August 22, 2018
Some users on twitter even went as far as making predictions that this spike could possibly occur:
While Bitmex is down for maintanence in around 2 hours from now, how much will Bitcoin's price change before Bitmex is up and running again?

— Parabolic Beastlorion (@Beastlyorion) August 21, 2018
Speaking to Business Insider CEO of Bitwise caused a spree of short-term trades: "It is a silly short-term trade. Buy when maintenance starts. Sell when it ends."
The consensus is that this shutdown from BitMEX triggered a short squeeze, which was previously predicted last week by Alistair Milne, CIO of Atlanta Digital Currency Fund. Milne stated that the ratio of BTC/USD short Vs long position had hit a 2018 high, something previously indicative of a price pump.
While some are rejoicing at the lift in the market, some are sceptical as to why this occurred. Joesph Young, an analyst, investor and contributing writer to Forbes (amongst others), made the following argument on twitter:
If bitcoin increased by 4% overnight because of scheduled maintenance of BitMEX, then the crypto market really needs a lot of work to build solid infrastructure.

One exchange can't have majority of market share of any trading pair because it leads to instability / manipulation.

— Joseph Young (@iamjosephyoung) August 22, 2018
One user blamed the current bear market entirely on leverage trading offered by exchanges such as BitMEX:
Greedy leverage traders have turned Crypto into a casino. Nowadays, bitmex is the only way to turn a profit. We are stuck in this bear market, because of this overall greed. 😭😭😭 Dont know what's worse, moonboys or leverage shorters. pic.twitter.com/8mdnt4k5Cg

— Ralph Clayton (@RalphClaytonUk) August 22, 2018