BitConnect head con man arrested
Everyones favorite Ponzi-scheme, (a-wasu-wasu-wasu-wassup!) BitConnect, is in the news once again. This time it appears that authorities have tracked down and made an arrest on one of the main players within the infamous pyramid scheme…
DNA India reports that Indian police arrested Asia Head of BitConnect, Divyesh Darji. Darji was traveling from Dubai to Delhi when officials collared him.
BitConnect, was (much to the delight of the crypto space) recently de-listed from its final exchange, trade satoshi. Many believed this would be the end to the saga, however, it appears not.
The following coins will be delisted from Tradesatoshi Exchange the 10-09-18
BCC, LBC, EBLU, SLC, BSS, FRX, HYPER, DMCC, JESUS, TPAY. pic.twitter.com/6jEn8N8y8K

— Trade Satoshi (@TradeSatoshi) August 10, 2018
The Next Web reports that during the BitConnect launch, India was undergoing its demonetization scheme in which it started to disallow larger denominations of Indian rupees, in order to crack down on counterfeiting. Darji and accomplices used this to their advantage stealing $12.6 billion (USD) from investors in India after the demonetization period.
Further connections to BitConnect were found when Shalish Bhatt a businessman within the Indian state of Gujarat, filed a complaint with authorities accusing 11 people of abduction and subsequent extortion of 200 BTC. These allegations were conclusively found to be a scam, unearthing the revelation that Bhatt himself invested in BitConnect and was trying to make up for lost funds.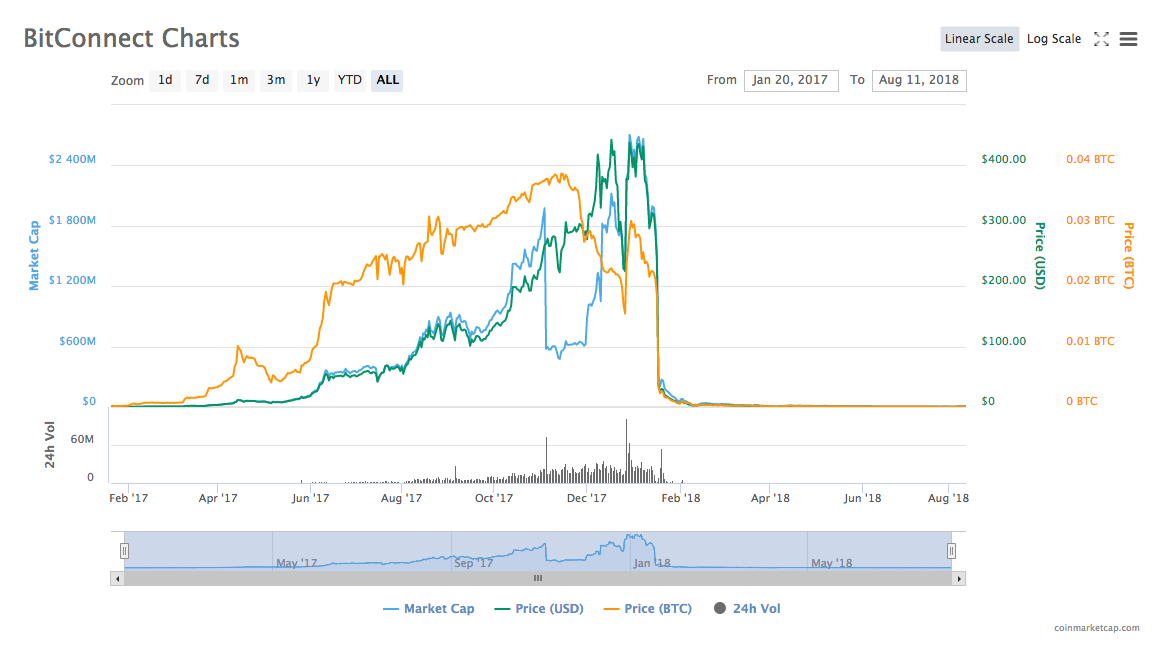 BitConnect (BCC) traded as high as $437 before plummeting to the depths when the allegations of a Ponzi scheme were revealed. BCC is currently sitting at (a surprising) $0.67, albeit with no trading volume.
Always remember to invest wisely, lest you fall victim to a similar scam…
Enjoy this masterpiece.#Bitconnect #Bitcoin #Cryptocurrency pic.twitter.com/H2CfISFWcp

— Crypto Yoda (@YodaBloke) March 19, 2018