Recovery day: Bitcoin gaining back almost $500, NANO biggest gainer in top 100
After rain comes the sun and sunshine there is in the cryptocurrency market today. Bitcoin dipped below $6000 over 24 hours ago, but is recovering since and managed to get back to the price before the short sell-off on Tuesday.
Bitcoin has been rising steadily over the last 24 hours, climbing from close to $6000 to $6466. Now $BTC has slightly retraced again and is valued at $6348, still a 5% growth in a day.

$200 billion
The crypto market is back over $200 billion, after falling close to the $190 billion mark on Tuesday. Still almost $30 billion has gone up in smoke over the last seven days. The total market cap is now back to where it was in November 2017, before the start of the bull run.
With Bitcoin slowly recovering, other coins are seeing significant gains for the first time this week as well. In the top 10, Ripple's XRP, Litecoin and Ethereum are the biggest risers (6-8%). Ethereum is now valued at $282, according to Coinmarketcap.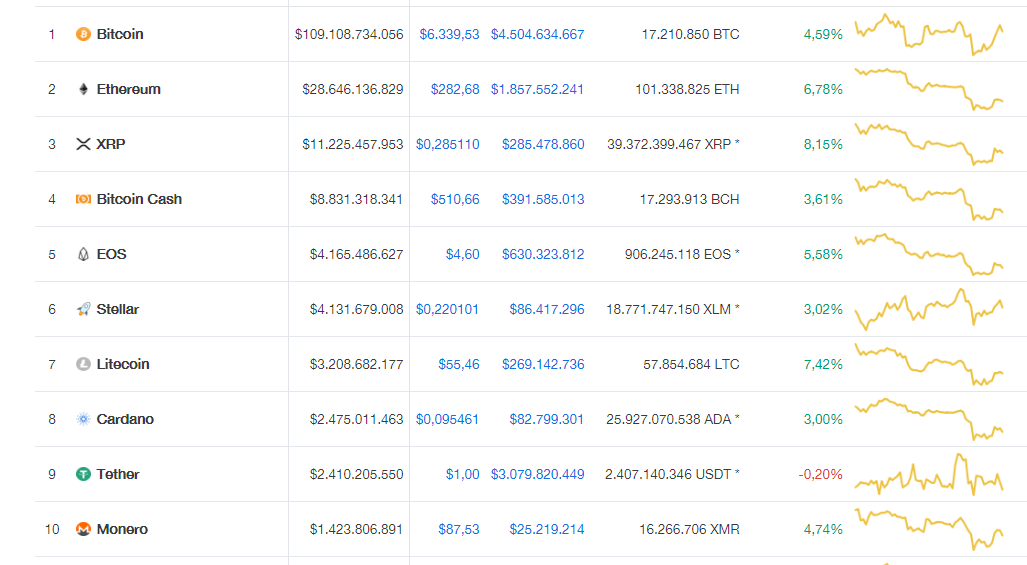 NANO is the biggest gainer in the top 100 with a 21% rise, and Bitcoin Private, Basic Attention Token and QTUM are also recovering faster than most other projects with gains of over 16%.

A few projects are still in red on recovery day: Aurora lost 10% of its value in the last 24 hours and Dentacoin, Populous, MOAC and Waltonchain are not seeing any green numbers as well.