KuCoin releases clarification on empty Hong Kong office rumor
KuCoin release a post clarifying about their empty Hong Kong office after a Hong Kong-based crypto analyst and investor named Joseph Young posted on his Medium showing that the office address the exchange refers to doesn't have "a real presence."
Just a day ago, a self-proclaimed crypto analyst and investor named Joseph Young posted on his Medium account claiming that KuCoin Hong Kong's office is empty. The post titled "WARNING: KuCoin's Hong Kong office is empty. Be extremely cautious about depositing money into this exchange" shows photo evidence of the claim, which was taken when Young paid a visit to the office.
The Hong Kong native said that he has always been suspicious of KuCoin since he's never heard anything about the exchange within the Hong Kong community and never seen any news report or promotions about it as well. He added, "If they have really been in Hong Kong, the Securities and Futures Commission of Hong Kong (SFC) would already have taken a move on them and suspended their trading activities since they do not have a license here in Hong Kong."
With piled up suspicion, Young decided to pay a visit to KuCoin's listed address in Hong Kong. His visit revealed that the listed office address is home to two companies, but none of them has KuCoin's name. He further found out that KuCoin is registered under the name of Smart Team Secretarial Ltd., which is one of the two companies at the address. However, there has never been any staffs from Smart Team Secretarial in the office since they moved out years ago.
This claim received mixed responses on Twitter as Young posted it on his personal account.
One day after an article about KuCoin lying about its office / headquarters was released, KuCoin's Twitter account is restricted.

KuCoin has an active user base and following. I think its investors deserve to hear from KuCoin and its execs.https://t.co/Vu1ou0U6iy

— Joseph Young (@iamjosephyoung) August 12, 2018
Soon after the rumor spread out, KuCoin posted an official announcement on their website, titled "The Clarifications on KuCoin Office Locations". On their post, the exchange clarified that their headquarter is located in Singapore, and that the Hong Kong address is nothing but a mailing address of "one of KuCoin's many subsidiary companies".
KuCoin's official Twitter account, however, shows something unnatural. It shows a warning message "Caution: This account is temporarily restricted", which was questioned by some people on the social platform.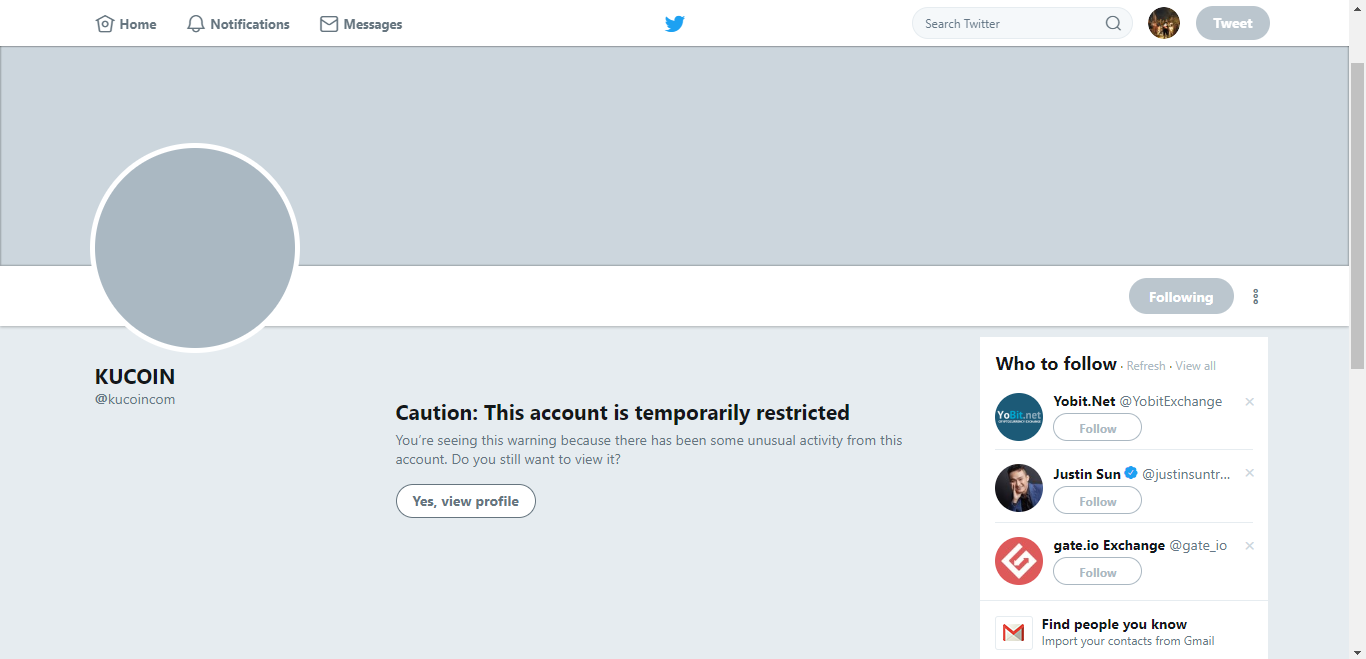 With daily trading volume of $14,824,127 as of publishing time, KuCoin is ranked at number 53 on Coinmarketcap. The exchange's Careers page shows many vacant positions in multiple departments in different countries, such as Singapore and China, which is consistent with the clarification announcement from the company.