Upcoming Unite the Right rally sees influx of crypto donations to neo-Nazis
There has been an upsurge of cryptocurrency donations to neo-Nazis ahead of the second Unite the Right rally which will be taking place in Washington D.C on August 11, Forbes reports.
A similar trend appeared during last year's Unite the Right rally, which ended with the death of one counter-protestor. Held in Charlottesville, Virginia, neo-Nazi groups saw a rise in donations from cryptocurrencies in the run up to the rally.
The anonymity associated with cryptocurrencies means that they can often be involved in the financing of extremist groups. US white nationalist Richard Spencer went so far as to say that bitcoin is the "currency of the alt-right."
Cybersecurity expert John Bambenek's Neonazi BTC Tracker Twitter bot has shown that as the rally approaches, donations to neo-Nazi activist Weev and his far-right website the Daily Stormer have spiked.
The Daily Stormer received around $60,000 worth of cryptocurrency donations before last year's rally.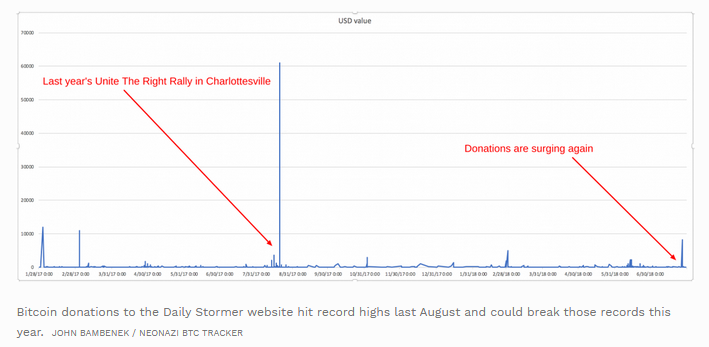 Bambenek's Twitter bot has also revealed that Weev has received about $1.8 million in cryptocurrency donations to his known wallet address, if he has any anonymous address, this amount is likely to be higher.
"Many of these known neo-Nazis had hundreds of thousands of bitcoin and other cryptocurrencies before the massive price rises we've seen over the last couple of years," said Bambenek. "They still have a great deal, and many choose to store their crypto in Monero — which is more anonymous than bitcoin."
Bambenek is currently looking for one donor in particular, who gave 14.88 bitcoin, worth about $56,000 at the time, to the Daily Stormer following the Charlottesville rally last year.