Coinbase ads are back on Google
Coinbase, one of the world's biggest cryptocurrency exchanges, can now have their advertisements seen on the world's largest search engine. The news comes shortly after Coinbase CEO Brian Armstrong's announcement last week that the exchange has been whitelisted on Facebook.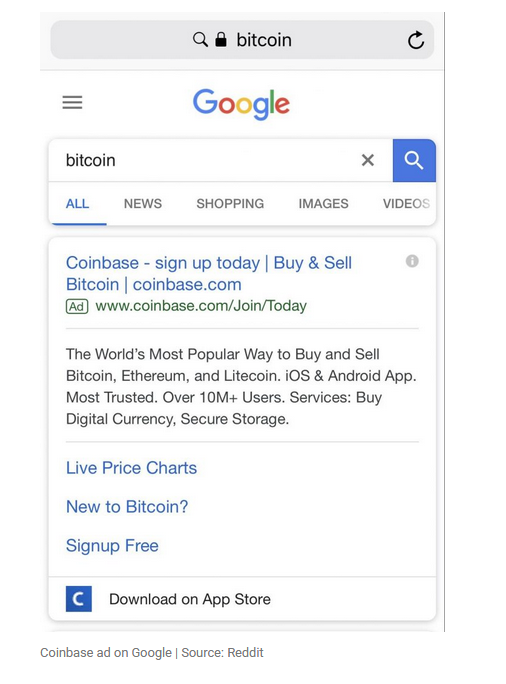 AMBCrypto reports that Google implemented a new financial services policy on June 28 which stated that the advertising of cryptocurrencies, including Initial Coin Offerings, exchanges, wallets and trading services, were to be banned on the platform. Google said:
"Our policies are designed to give users information to weigh the costs associated with financial products and services and to protect users from harmful or deceitful practices. For the purposes of this policy, we consider financial products and services to be those related to the management or investment of money and cryptocurrencies, including personalized advice."
To be approved for Google advertising, the company must be licensed by their country's financial authority. Additionally, the ads and landing page must comply with all AdWord policies and necessary legal requirements.
The announcement marks a huge win for the Coinbase team as Google processes over 3.5 billion searches per day, giving Coinbase exposure to billions of users.
One Redditor, Steven81, says:
"After Facebook, Google does too. Bull is prepped :p Seriously though, even google search trends (for bitcoin) seems to have bottomed, finally, after months and months of falling. Manipulation or not, the way this bear started (ads ban, Korea ban) may also be the one to end it (restart of ads, Korea is back)."