Skybox report: Cryptojacking bigger threat than ransomware
Skybox Security has released a report on the state of internet security threats for the first half of 2018. The findings are that while ransomware and other forms of malware are on the decline, cryptojacking malware has blown up, making up 32% of cyber attacks, up from just 7% last year.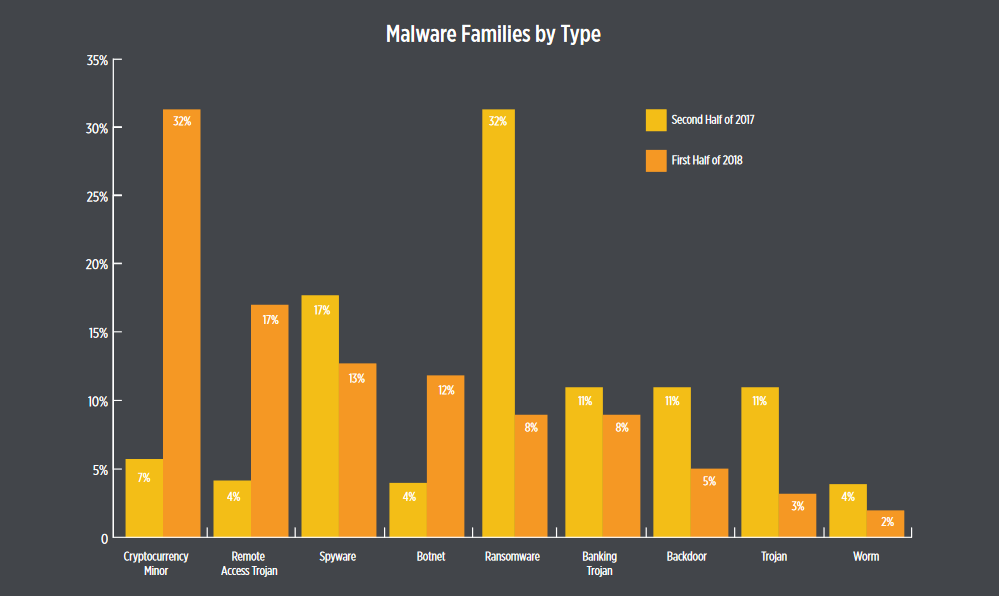 Cryptojacking software basically uses a hosts CPU/GPU to remotely mine cryptocurrency. Users are usually infected through a malicious website or app. Most users will have no idea their processing cycles are being basically hijacked for someone elses benefit.
Cryptojacking has been on the rise lately due to the high profitibility and ease of infection. It can be difficult to trace the attackers and there is very little cost to set up. Until this year ransomware was the number one security threat, but now it looks like cryptojacking is replacing it. The report notes, "Ransom payments were almost entirely completed via untraceable cryptocurrency. Cryptominers cut out the middle man, going straight to the source."
The best defense against cryptojacking is probably to stick to trusted websites and applications. Still there is always a risk that even a trusted source can become compromised. In the coming years tools will undoubtedly be developed to combat this new form of internet attack.