New government survey indicates negative crypto trends
A recent survey carried out by the Canadian central bank has shown that Canadians are increasingly aware of bitcoin and other cryptocurrencies but they aren't necessarily interested in buying or holding the currency.
According to a Forbes report, the survey was conducted by getting data from 2500 Canadians and was called the Bitcoin Omnibus Survey. The survey was conducted while bitcoin's price spiked last year when the price shot up to $19,000 before receding backwards in the beginning of 2018.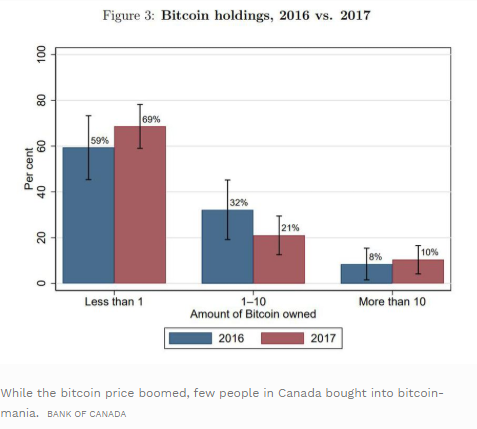 In terms of numbers, Canadians who own cryptocurrency accounted for 2.9% of the population in 2016. The number has risen to 5% in 2017, but it is still drastically low considering 85% of the people in Canada are aware of bitcoin by the end of last year. Given this high rate of awareness, it is not unrealistic to believe that bitcoin awareness may very soon reach 100% in Canada.
"In terms of changes over time, Quebec saw the largest increase in awareness, as it rose from 49% in 2016 to 77% in 2017," the report states. "Awareness among women rose to 80% in 2017, an increase of 26 percentage points. Awareness increased across all age groups, from 62% to 68% in 2016 to 83% to 89% in 2017. Demographic trends in awareness remained consistent across years. For example, males were noticeably more aware than females (91% vs. 80% in 2017; 75% vs. 54% in 2016)."
The biggest takeaway from the survey is that the main reason people are now holding bitcoin is they hope the price will increase, which has spiked from 12% to 58% in the last year. In 2016 the main reason to own the coin was transactional, which accounted for 36% of respondents. This is indicative that Canadians, among other people around the world are holding the coin as purely economic instrument and do not use the currency to buy, sell or trade goods. One argument for why bitcoin is not being massively adopted is that coins sitting in wallets will not increase their value or usability.