Bank of Finland report: cryptocurrencies are a "fallacy"
The Bank of Finland has chimed in with its take on cryptocurrency in a paper entitled: The Great Illusion of Cryptocurrencies".
Written by Aleski Grym – an advisor on digitalization and head of the digital central bank process in the financial stability and statistics department (take a breath); The paper claims to be an attempt to "de-muddle our understanding of cryptocurrency".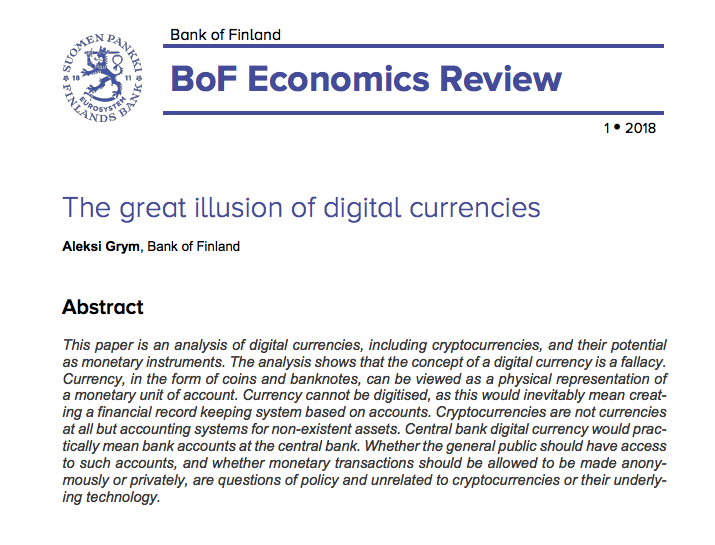 However, as it turns out, unlike the recent EU report, this paper is less of an educational insight and more of a scathing review. The introduction states that the fundamentals of cryptocurrencies "show how poorly understood the concept of money itself still is today." Adding that the internet and social media have "muddled our sense of fact and fiction".
Grym continues to explain the nature of cryptocurrency citing studies on the topic conducted by central banks; then, moves on to define money, only to assert that cryptocurrencies cannot exist because "When money is digital, it takes the form of account balances". Grym is effectively arguing semantics as he theorizes that currency can only exist "physical manifestation of the unit of account" or, a tangible form of bookkeeping.
He goes onto further criticise the underlying technology of cryptocurrency equating blockchain to a journal, elaborating that it is "no different to ledger books that have been used for a hundred years or more". Grym continues to add that the implementation of blockchain alongside cryptocurrencies are "unrelated to the fundamental characteristics of money".
This fairly reductive viewpoint is a far cry from the aforementioned EU report released earlier this week which while concluding that cryptocurrencies would not challenge central banks, also mentioned the possibility of digital assets becoming "full-fledged private money".