Bithumb release further hack details claiming to have reduced losses by $14 million
Hacked South Korean Exchange Bithumb has claimed to have reduced losses from 35 Billion Korean won (KRW) – roughly $31 million - to 19 billion KRW – about $17 million.
The digital heist occurred on June 20th and resulted in the company suspending all account deposits and withdrawals to minimize losses. This, according to the announcement was integral to the $14 million in recovered assets:
"We were quickly able to take custody of the cryptographic wallets of all cryptographic currencies, collaborating with the Cryptographic Fund and the Worldwide Cryptographic exchange wallets to preserve some of the money we expected to be seized".
We would like to inform our customers about our current status quo and compensation event. Please see the notice on our website.

▶ https://t.co/OCbY97XwIW

— Bithumb (@BithumbOfficial) June 28, 2018
The announcement continues to advise against depositing until system security can be assured.
Further to this, the company released a report on the state of damages, detailing a comprehensive account of all losses: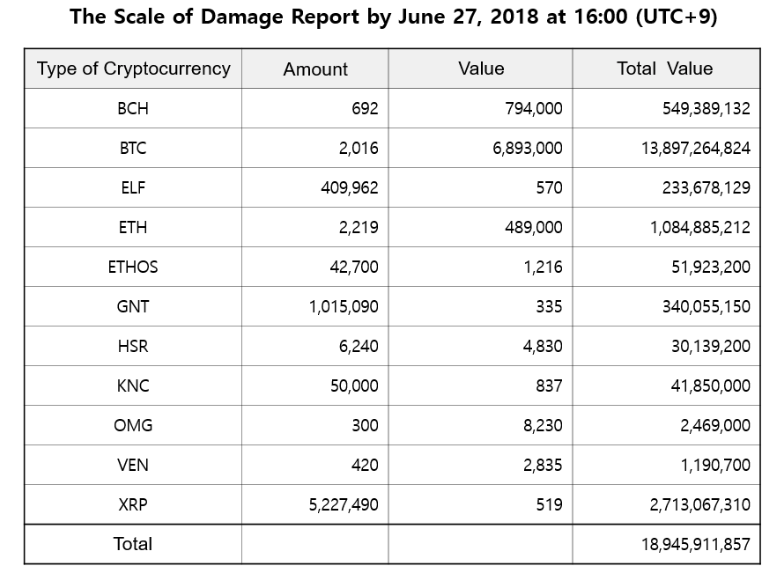 The company also mention that they plan to compensate affected customers – through an airdrop.
Details are fairly ambiguous, however, users will apparently receive an "annual interest rate of 10% over the period of the event". The type of airdropped cryptocurrency is yet to be decided.