Could this be the next coin on Coinbase?
Ripple shows the best behaviour among the top 10 today, and there might be a good reason for that. In fact, it's not just about today. Ripple did much better than its peers over the entire month.
To illustrate this, here's a comparison between XRP and its neighbours in terms of market cap: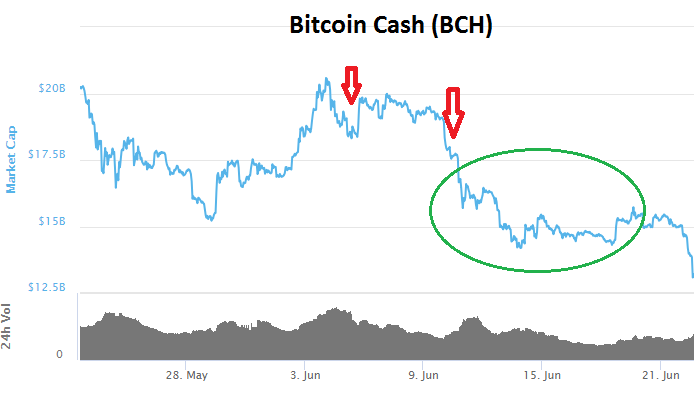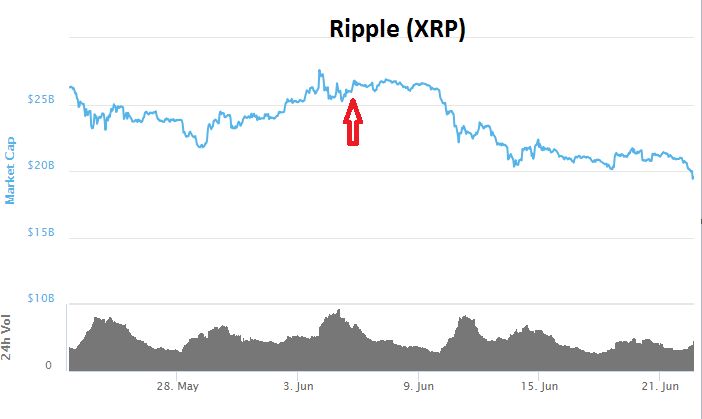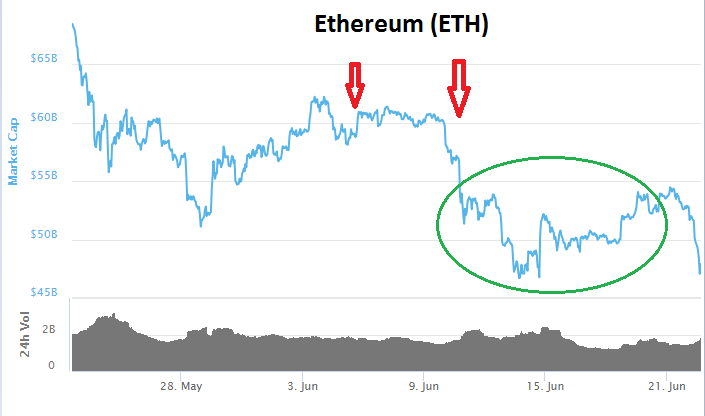 The two dips pointed by red arrows look very different for XRP - there are more than two, perhaps you can spot them. It also looks as if the entire dip marked in green for Bitcoin Cash and Ethereum is almost missing for Ripple. Fortune.com published an article yesterday which might just explain why this may be.
Ripple fans previously speculated that XRP might be the fifth coin in line on Coinbase after the CEOs of the two companies featured together (along with some other two crypto VIPs) in a TV show on CNBC. Coinbase quickly soothed the waters with a tweet, writing that such rumours have no real basis.
But the hype took off again this week. Possibly wound up by the earlier announcement that Ethereum Classic will be introduced on giant crypto to fiat exchange Coinbase, Ripple's CEO argued in an interview that Coinbase should, in fact, take XRP more seriously: "As we solve problems at scale for institutions, I think it's in Coinbase's interest to participate in that". A Bloomberg report pointed out that Ripple also attempted to pay its listing on Coinbase ($1mln., for nosy readers).
The reason behind Ripple's exclusion stands in the fact that the regulators have not assessed yet whether it is a security or not - and Coinbase only operates with coins that are not securities as well.
The CEO of Ripple insisted, however, that it is rather "clear that XRP is not a security". XRP and Ripple are two different things in his view - the first, which is the coin itself, would continue to function even if the second (the company - Ripple) failed. Buying XRP is not synonymous with investing in the company.
Regardless, it seems that cryptocurrency exchanges like Coinbase don't dare to venture to list XRP before the officials clarify its status.
This is a message from the LIVE Rumors page. You can vote for the reliability of the message yourself!