ICO market needs "light touch" regulation says US congressman
Warren Davidson, Ohio's Republican representative in the house of Congress, has stated in an interview with CNBC's SqwarkBox that the ICO market needs a "light touch" when it comes to regulation.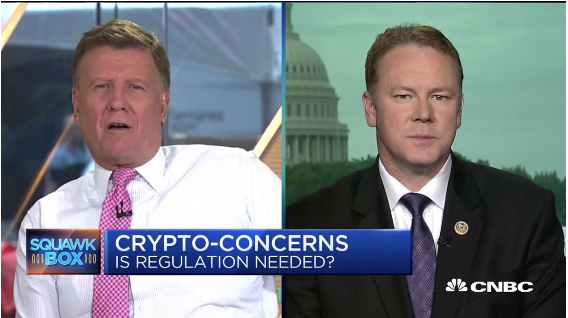 On the topic of Crypto regulation, Davidson argued that to provide "certainty for the ICO market" regulators need to enact a "light touch regulatory framework". He moved straight on to the highly discussed declaration from the SEC which announced Ethereum to be a commodity, not a security, going on to share concerns that "everything starts looking like a security to a securities regulator", and that to ensure a strong capital market "regulatory certainty" must be provided.
When quizzed on what a "light touch" approach might involve, Davidson responded fairly limply stating that they hadn't yet put together the first draft but are working "with people across the industry including regulators". He continued to talk about fears of fraud and "regulatory arbitrage" across the ICO market:
"essentially companies are doing whitepapers instead of security offerings and they're essentially selling securities, that's led some to be incredibly concerned about fraud" Davidson said.
When asked if he was concerned about digital currency being used for "illicit" activities, Davidson stepped up to defend crypto, stating that he believes its "more trackable than cash" and "more open" than other money transfer systems.
When pressed further on whether crypto was the "currency of choice" for criminals, Davidson responded:
"I'm not sure that it would be considered the currency of choice, but it is easy to transmit through time and space, and its distributed, you don't need a central clearing house… but if you look at how cases like Mt. Gox have been solved, there are ways to trace who is the beneficial owner…".