Litecoin up 11.8% leading the rally among top 10 cryptos
All the top 10 cryptocurrencies are trading in the green pasters. Litecoin is leading the pack with a gain of close to 11.8%. Bitcoin also rebounded, crossing $10650, up about 9%.
Litecoin traded around $100 as of 3.00 am UTC, scaling close to 11.8% over the last 24 hours. It's market cap currently stands at $6.2 billion. However, taking a viewpoint from a longer-term perspective, altcoins like Litecoin and Bitcoin SV are down almost 50% from their 2019 highs touched only a few weeks back.
Bitcoin SV has been the runner up among top 10 cryptos, increasing 10.5% and trading close to $138.2. It has been a second straight day of rally for Bitcoin SV.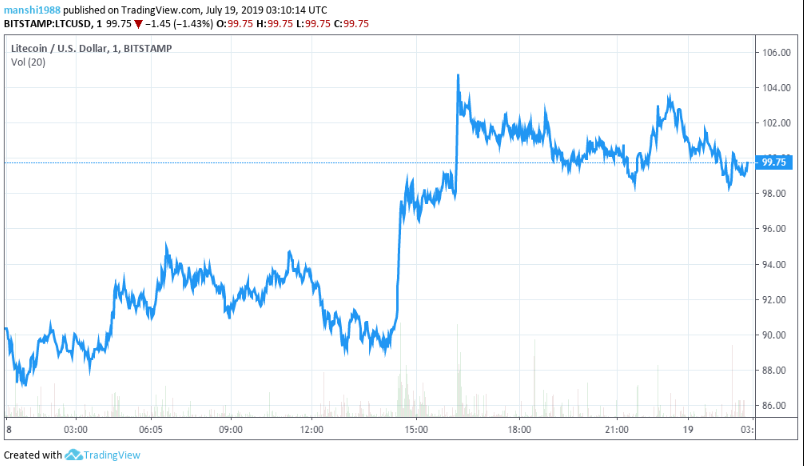 LTC/USD Chart provided by Tradingview
The broader markets are shinning green with most top cryptos increasing 6-9%. The winner for the day is Japan Content Token up 32.3% and Egretia up 23.8%.
According to a LongHash report, UTC 1 am has been the most volatile hour for Bitcoin price. The report took a look over the past two years data, from July 6, 2017 to July 2, 2019 and confirmed that 1 am has seen more daily highs and more daily lows than any other hour of the day and experienced the wildest swing in price.
We are unsure if these price swings could also have a potential impact on the price of altcoins during the same hour.
The current volatility in Bitcoin price remains high as bulls and bears continue to battle the market.
Bitcoin volatility is back to levels not seen since the end of the great 2017 bull market pic.twitter.com/2CfKOOjPOo

— skew (@skew_markets) July 18, 2019
Well that's complete!

40% up, looking for 89.42 before going back in $Ltc!

Hope you fallowed this call! :-)#LTCUSD #Litecoin pic.twitter.com/7EzaXeDSgp

— CryptoMAt (@Mat1659) July 19, 2019
NEW! Bitcoin & Cryptocurrency Merch available at stacking sats!