Bitcoin back above $10K, with LTC and BSV gaining more than 10%
After taking the first prolonged dive below the $10K psychological resistance, Bitcoin is bouncing back towards previously held higher grounds.
Following the second session of Libra hearings in the U.S. Congress progresses, with fewer negative mentions towards cryptocurrency as the attention of representatives has swifted more towards Facebook´s project and less towards the cryptocurrency ecosystem, Bitcoin appears to be taking advantage of the lack of negative news in order to amend some of the effects of yesterdays' dip. At writing time it is priced at $10,268, having increased its price by more than 6% in the last 24 hours.
With regards to the rest of tokens in the top 10 by market cap, BSV and Litecoin are the best performers of the day in so far, wining about 10% in each case meanwhile the remaining projects gains range between 3 and 6%.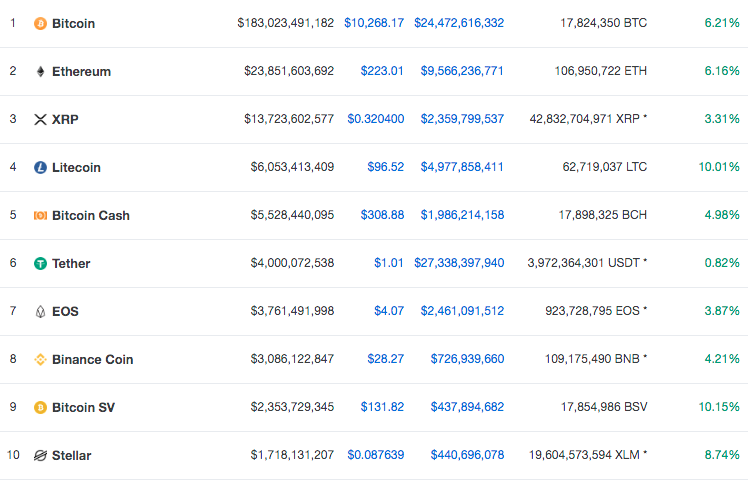 The spike upwards seems to have taken plenty of traders and voices in the crypto space by surprise, with reactions from Twitter displaying a mix of incredulity, surprise and happiness for the bounce.
No technical analysis could have predicted that squeeze until it was already half way under way. Bears were fully in control until slightly past 10:30 EST.

— Alex Krüger (@krugermacro) July 18, 2019
#bitcoin - $BTC

Price action coming through with a very organic/natural candle - surely retail investors buying for the first time 🤪 pic.twitter.com/2nT3mIDCTq

— TEDDY 🌐 (@teddycleps) July 18, 2019
Holy bounce $btc move closes the door for those alts that were seeing slight relief bounces for the past 48hrs. pic.twitter.com/wNIKIlZl9i

— Luke Martin (@VentureCoinist) July 18, 2019
NEW! Bitcoin & Cryptocurrency Merch available at stacking sats!