Bitcoin SV up 15% for the day, are you keeping a tab?
Bitcoin SV on a run, scales 15% in a day. DRIVE Markets inclusion of BSV spot trading against BTC, ETH, LTC, XRP, and BCH could be a factor.
Bitcoin SV has scaled about 15% over the last 24 hours, being the number two performer for the day. It lost to Nano, which is up almost 28.1% with a market cap of 153 million.
Out of the total 15% rise in Bitcoin SV, 5.9% came during the past one hour alone. As of writing, it trades at $128 and has a market cap of approximately $2.2 billion. It ranks among the top 10 cryptocurrencies, currently holding the number 9 position.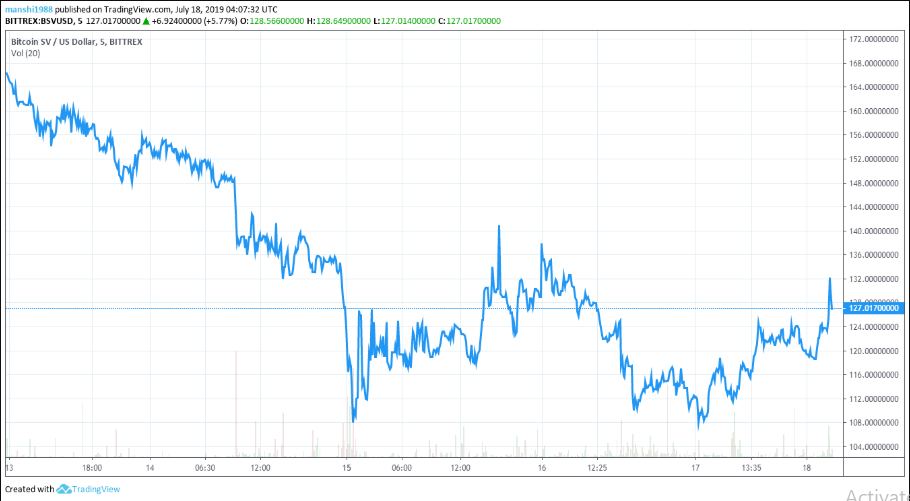 BSV/USD Chart provided by Tradingview
According to Coinmarketcap, Bitcoin SV stands for Satoshi Vision. Stemming from Bitcoin Cash, BSV is a hard fork (community-activated update to the protocol or code) established as distinct from BCH after the network upgrade scheduled for November 15th, 2018 resulted in a hash war determining the chains would be split. According to their website, the Bitcoin SV project is primarily backed by CoinGeek Mining with development work by nChain.
The sharp rise in price could be supported by DRIVE Markets offering spot trading in BSV/USD, plus deposits and withdrawals in Bitcoin SV (BSV).
DRIVE Markets is a crypto and fiat exchange, built on forex technology First Derivatives and MetaTrader, which offers a smooth transition to crypto trading.
6 Days!!
Major —upgrade on July 24. #BitCoin #BitcoinSV $BSV #BSV

Once Quasar protocol is implemented July 24th the other blockchains are going to look like the Flintstones by comparison https://t.co/I2cbcpbwpp

— $DiegoSV 🇧🇷 (@Diegoioisp) July 18, 2019
BitcoinSV - The New Economy and Digital Society Based on Honesty and Integrity ✍️#bitcoinsv #investment #bsv #think #webuild #together https://t.co/SRdhugbcDW pic.twitter.com/VPD8zBCscZ

— Joakim Holmer 🇸🇪 (@joakim_holmer) July 18, 2019
nChain's Chief Technology Officer and Technical Director of the Bitcoin SV Node team, Steve Shadders says, ''BSV has the scaling plan necessary to support enterprise blockchain applications, which is why it should be of interest to professional and institutional investors.''
Buy High Sell Low hoodie
NEW! Bitcoin & Cryptocurrency Merch available at stacking sats!