94% of all BSV transactions still come from a weather app
Even though the transaction count of the controversial BSV token has been increasing rapidly as of late, the growth is far from being a bullish signal from the price perspective, unless weather apps are the underdog of crypto markets.
According to a piece of research published today in Coin Metrics´State of the Network bulletin, the BSV network is overwhelmingly dominated by arbitrary, unspendable OP_RETURN script opcode on transactions, which have practically obliterated transactions without OP_RETURN since the beginning of the year up to now. For example, on July 14th more than 96% of all BSV transactions included an OP_RETURN.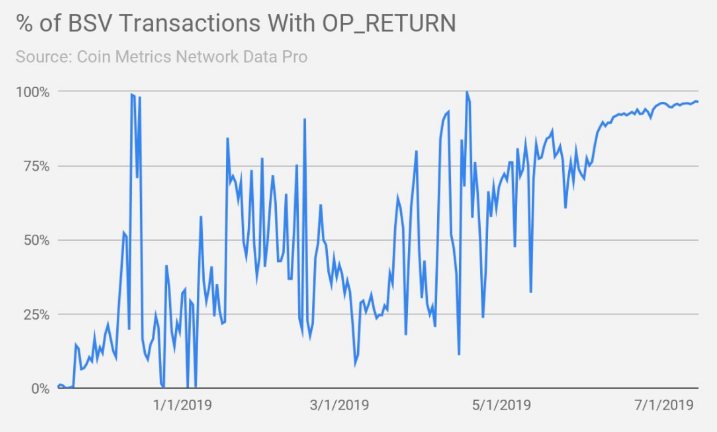 Also since the beginning of the years, the OP_RETURN activity on the BSV network, previously split among apps such as memo.cash and bitcom, has become almost exclusive of WeatherSV, a site which "demonstrates the ability to index and retrieve climate data immutably stored on a distributed ledger", and uses said OP_RETURN transactions to record climate date on the BSV ledger.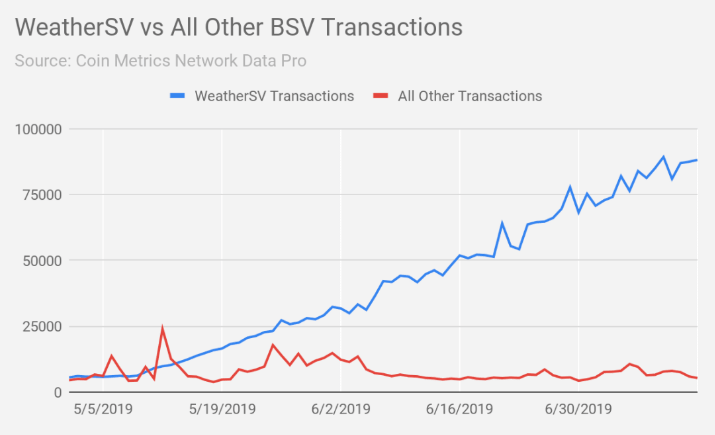 As some in crypto Twitter have already noted, despite the potential utility of the WeatherSV app, its overwhelming domination of the BSV network leaves room for questions and jokes alike.
BSV transaction volume is now higher than BCH transaction volume butttttt 94% of BSV transactions are from a weather app. H/T @coinmetrics https://t.co/TbXyxYnP4P pic.twitter.com/s6r1lqQNym

— Jameson Lopp (@lopp) July 16, 2019
Chepicap reported earlier about the atypical growth of network traffic coming from the wether app, which in late June gathered up to 98% of all BSV transactions.
NEW! Bitcoin & Cryptocurrency Merch available at stacking sats!