Analyst: "#altseason could just be around the corner"
"When altseason" the one question in the mind of almost every cryptocurrency enthusiast with a bag for of alts. This question has proven difficult to answer but that hasn't stopped analysts from attempting to provide one; now, another analyst has provided a new insight, stating that altseason could be "just around the corner."
While calls for a full-blown altseason (along with opposing calls for the death of all alts) have been echoing around the crypto community for a while to no fruition, one indicator, highlighted by the following analyst may end up being a key factor for the beginning of altseason.
'El Profesor en Crypto' as they're known on Twitter has suggested that Bitcoin (BTC) dominance is on the precipice of rejection by the 200 exponential moving average (EMA).
The analyst also notes that the weekly RSI is touching its all-time high since the 2nd of November 2015 – something which denotes that Bitcoin is currently overbought and that a retrace could be imminent.
$BTC dominance is going to be rejected by the 200 EMA on the weekly in the very ST (today/next week)

Weekly RSI touching it's ATH since 2 november 2015

While crypto-twitter is convinced alts are dead, #altseason could just be around the corner.@SatoshiFlipper @themooncarl pic.twitter.com/EahVkRU2wR

— El Profesor en Crypto (@gincryptonicgm1) July 14, 2019
Why does this mean altseason is near?
Its thought that altseason typically comes into play once Bitcoin dominance starts to decline.
A lack of BTC dominance is often correlated to an increase in the price of altcoins. BTC dominance typically increases when traders buy and hold BTC, this usually coincides with a sale of alts and thus a decrease in altcoin dominance. The opposite is true for a decrease in BTC dominance, with people either loading up on alts in exchange for BTC or selling BTC for fiat.
However, Bitcoin is currently at 64% market dominance and is clearly leading the pack, with altcoins suffering as a result of this latest dip; a truly harsh rejection off the aforementioned 200-day EMA is potentially the only way we'll see a notable increase in alts any time soon.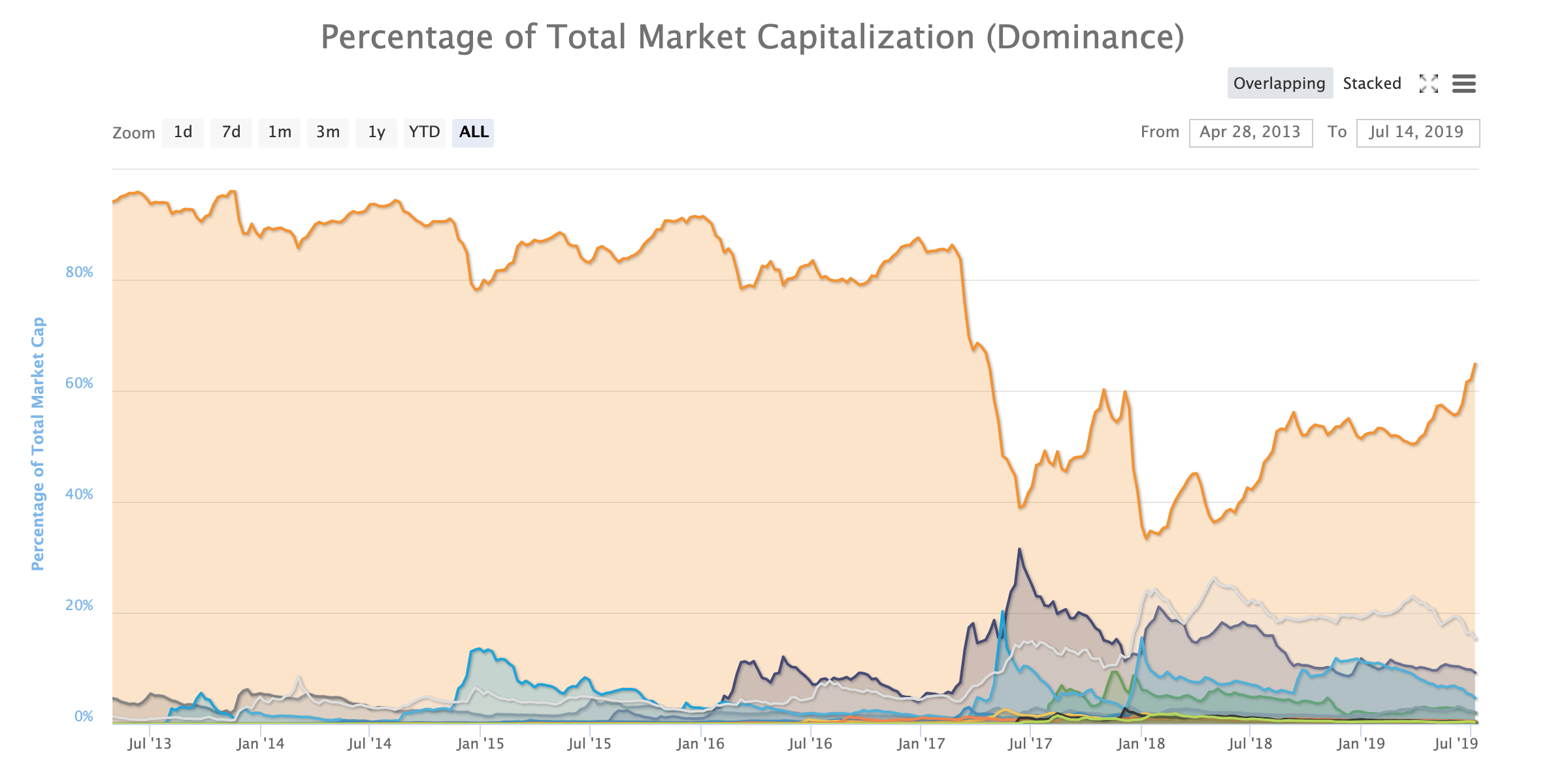 Are alts are dead?
As the analyst pointed out alt sentiment is at an all-time low, propagated with alts unfortunate correlation to Bitcoin which is often expressed more negatively than it is positively.
One particularly vocal detractor of altcoins and indeed altseason is Bitcoin podcaster and apparent maximalist, Peter McCormack, who recently suggested that all alts we're "junk," and that last altseason was a "one-off."
The reason you haven't had an alt season is simple. You all know that alts are junk and aren't worth shit.

You're hoping for more clueless morons to pump this shit but they aren't here. 2017 was a one off, we were all clueless.

Buy Bitcoin, go long, STFU!

— Peter McCormack (@PeterMcCormack) July 10, 2019
The thread was filled with mixed reviews, some agreeing and others suggesting that not all alts were shitcoins.
Interestingly, in a recent interview with Chepicap, and speaking on the topic of altseason eToro's senior analyst Mati Greenspan noted that altseason may have even come and gone:
"altseason lasted exactly from February 11th, when we saw that first pop in Litecoin, all the way until April 2nd when Bitcoin completely sucked all the air out of the market."
Of course, not everyone believes these narratives, and if the analyst is right and a rapid decline in dominance is seen we may well see a rise in most altcoins…
Do you think altseason will happen soon? Or are all alts dead? Let us know below!
Follow Chepicap now on Twitter, YouTube, Telegram and Facebook!

Mati Greenspan INTERVIEW: Bitcoin to hit $250K if the cycle repeats itself!Subscribe to the Chepicap YouTube Channel for more videos!