Analysts: Altcoins will see a relief rally as soon as Bitcoin stabilizes
Analysts say that Bitcoin is bullish if it manages to break $12,500, whereas altcoins will be bullish if the largest crypto manages to stay increase.
The crypto market has shown huge volatility in the last couple of days. Either Bitcoin and altcoins have had an "indecisive trend" as to where they will head next, leaving many clueless and probably anxious at the same time.
Some analysts, however, have some things to say about where Bitcoin and altcoins are heading moving forward, as reported by NewBTC.
Renowned crypto analyst, Josh Rager said that he's "absolutely bullish" if Bitcoin manages to break above $12,500 and bearish if it falls back to $11,136. As of writing time, it is traded around $11,700, after recovering from the previous level of $11,200.
$BTC - 15Min Chart

Struggling to break above $11,760 with the decreasing volume setting up for more volatility (BBands squeezing on lower time frame)

Any move and close below $11,138 would be bearish on LTF and for me to get absolutely bullish, I want price above $12,500 pic.twitter.com/gTmBXRbGOW

— Josh Rager 📈 (@Josh_Rager) July 12, 2019
Meanwhile, another analyst predict what is likely to happen to altcoins, on which he refers to BTC's position.
"If BTC stays still increases chances that short term relief for alts can have follow through," said Luke Martin.
Alts have had a steady decline this week with the majority of them stringing together 4 red days in a row.

Today almost all of them are crossing above daily open or up about 5%.

If $BTC stays still increases chances that short-term relief for alts can have follow through. pic.twitter.com/yUelBetJaT

— Luke Martin (@VentureCoinist) July 12, 2019
As of writing time, almost all top 100 cryptos, including the major ones are in green, which is different with how they were just couple of hours ago.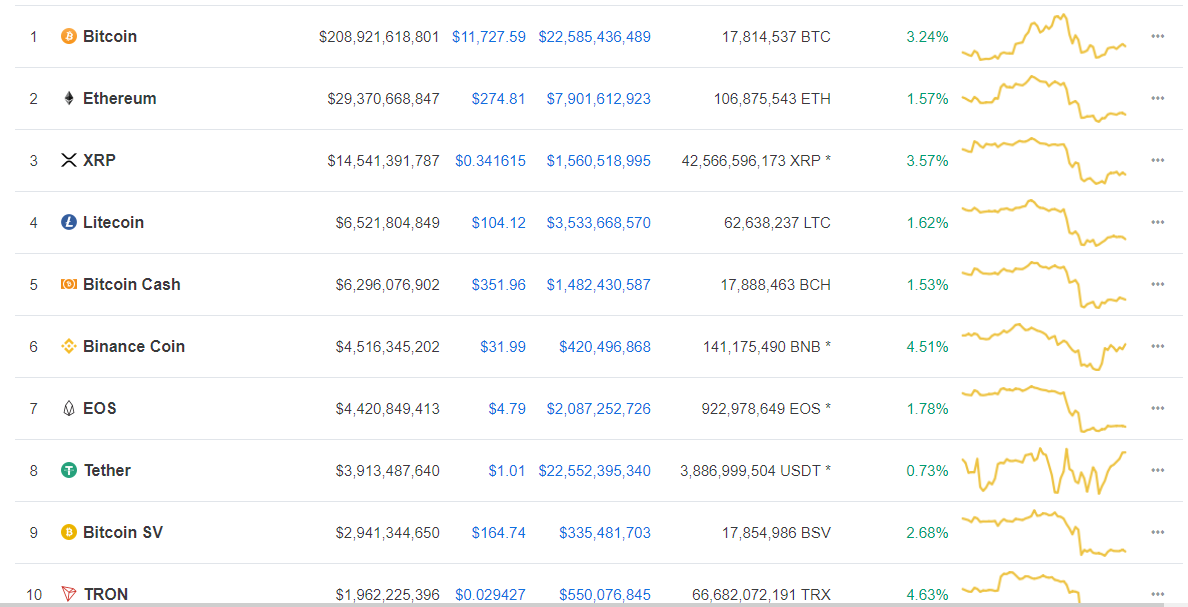 Stick with Chepicap to find out if the predictions come true.
Follow Chepicap now on Twitter, YouTube, Telegram and Facebook!

Bitcoin falls to $11.5k: These are the NEXT levels to watch! Subscribe to the Chepicap YouTube Channel for more videos!