Powell's Libra comment could not sway Bitcoin below $11200
Bitcoin's drop was likely independent of Fed Chairman, Jerome Powell's comment on Libra. Disdain for Libra would be inefficient in driving the cryptomarkets lower. Bitcoin move to $11170 shows bearish sentiment, not a reaction to Libra comments.
Losing $13000 mark
Bitcoin prices plunged on July 10 and 11 after leaving $13000 territory. The bears in the market seem active with the influx of selling pressure. Bitcoin trades at $11295 at the time of writing dropping about 3% in the last 24 hours and has it's market cap standing at $201 billion.
The Bitcoin dominance index is currently at 65.1%, steadily rising since the start of the year. Historically, Bitcoin has not been able to hold much ground around $13000 level. The recent crossing of $13000 also had a similar reaction.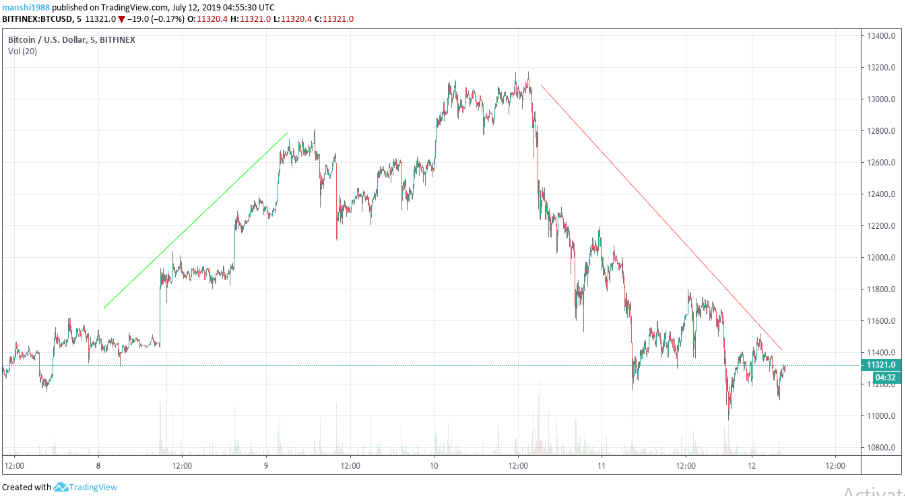 BTC/USD Chart provided by Tradingview
A convenient link
Oftentimes market participants like to dig into the causes of Bitcoin downfall. Many analysts assumed that Federal Reserve Chair, Jerome Powell's comments on Libra could have a been a reason in Bitcoin drawdown.
Powell called for a halt to Facebook's Libra cryptocurrency project on Thursday until concerns ranging from privacy to money-laundering were addressed.
On the same day, Bitcoin prices retracted almost 8%. The two events got conveniently linked. Craig Erlam, a senior market analyst at FX trading platform OANDA told Reuters, ''This is a direct response to the Powell testimony and comments on Facebook's Libra and the implications that could have for the entire cryptocurrency space.''
#Facebook doesn't seem to believe in centralisation. They want to take leverage of the decentralized mechanism but are fooling people because #Libra is centralised and is not borderless. #Bitcoin is #Decentralised and #Borderless!

— Sidharth Sogani (@sidharthsogani) July 12, 2019
No evidence in the past
However, it is evident that the Libra project has a host of potential problems centralization and privacy that cryptocurrencies like Bitcoin do not have. Incidents in the past where powerful US government faces have shown concerns with Libra and multiple calls for altogether shutting down Libra have had no impact on Bitcoin or the cryptocurrency market.
Trump comments on Bitcoin saying 'not a fan' of Bitcoin could have however caused some disrupted in the market sentiment causing a downfall.
I am not a fan of Bitcoin and other Cryptocurrencies, which are not money, and whose value is highly volatile and based on thin air. Unregulated Crypto Assets can facilitate unlawful behavior, including drug trade and other illegal activity....

— Donald J. Trump (@realDonaldTrump) July 12, 2019
Anyone notice from @realDonaldTrump that He didn't mention anything about banning / stopping #bitcoin or #Libra

I'm pretty sure he's educated on #cryptocurrencies and knows where it's going.

The most he can do is tell people he don't like it while he continues to buy. 😂🤷🏾‍♂️🤑

— John Ðough (@RealJohnDough) July 12, 2019
Follow Chepicap now on Twitter, YouTube, Telegram and Facebook!

Bitcoin to hit $30K before next correction; TRON = ponzi scheme?!Subscribe to the Chepicap YouTube Channel for more videos!