BTC above $12,500! The stage for new yearly highs is set?
According to several cryptocurrency analysts, the world's number one crypto coin is all set up to hit new yearly highs, with the condition that BTC manages to hold above the $12,500 price mark.
Since Chepicap's latest market update, BTC has continued its surge, reaching its current value of $12,558 per coin.
The number one cryptocurrency has gained close to 10% in the past 24 hours, while having reached its intra-day high of just around $12,700, which is why a number of analysts believe the stage is set for BTC to hit new yearly highs in the next few days.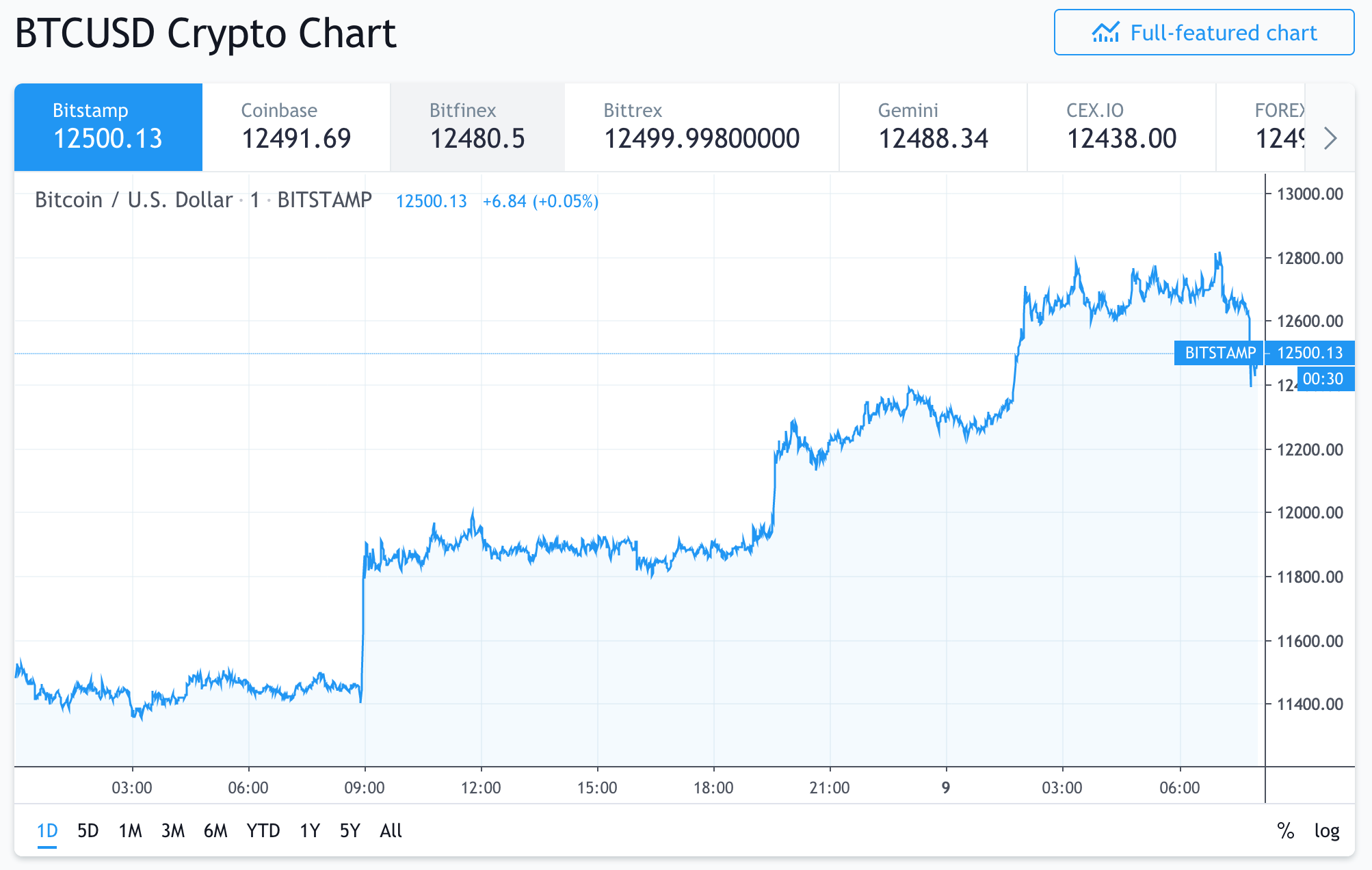 BTC/USD Chart provided by Tradingview
A well-known cryptocurrency analyst, going by the Twitter handle, Crypto Hornhairs, suggests that Bitcoin could reach new yearly highs, if BTC manages to hold strong above the $12,500 price level.
'A break above $12.5k and there is not much in the way of new yearly highs', he tweets.
$BTC

Solid bullish breakout of consolidation today but we are up against a true test of resistance here.

A break above $12.5k and there is not much in the way of new yearly highs.

$13k measure rule target of the symmetrical triangle also matches up with a horizontal pivot. pic.twitter.com/mx13f5DBpZ

— HornHairs 🌊 (@CryptoHornHairs) July 9, 2019
Another prominent crypto trader, Josh Rager, echoes similar sentiments by suggesting that the world's most popular cryptocurrency has a great chance of breaking through the 2019 high, given the fact that Bitcoin is now in a bull market.
It's likely that fear of a "double top" may be shared by some if price pushes above $13k again

Double tops were a popular reversal pattern in 2018 where price created a double high or near high before the next drop

The big difference though...

2019 is a bull market pic.twitter.com/2ozUjAdCD4

— Josh Rager 📈 (@Josh_Rager) July 9, 2019
Crypto traders continue to discuss what could happen next for the number one crypto.
Many have been predicting another retracement to levels as low as $8k, however, most seem to believe that a close above $12.5k would be very bullish in the short-term, with the $14,000 price mark as the next goal, or even a new ATH price.
What do you think? As we head deeper into the week, can Bitcoin keep up its growth?
Will we see new yearly highs soon? Let us know in the poll below.
Follow Chepicap now on Twitter, YouTube, Telegram and Facebook!

2 BITCOIN moves to watch now! ALTSEASON not happening yet.. Here's WHY!Subscribe to the Chepicap YouTube Channel for more videos!