$8 million worth of Binance's stolen Bitcoin got moved today
Today saw Whale Alert sounding the alarm on twitter that those responsible for the recent hack of the Binance exchange just a few months ago, which saw some 7,000 BTC stolen, now are moving about 700 of that coin to another wallet, though it is unclear why.
⚠ 706.1 #BTC (8,038,240 USD) of stolen funds transferred from Binance Hack May 2019 to hack wallet

Tx: https://t.co/m7YnabMrrQ

— Whale Alert (@whale_alert) July 8, 2019
The funds were originally stolen in early May, and just weeks later it was announced that the coins were being tracked across the blockchain. Now, it seems that 700 of the original 7,000 has been moved to a separate wallet, though for reasons unknown.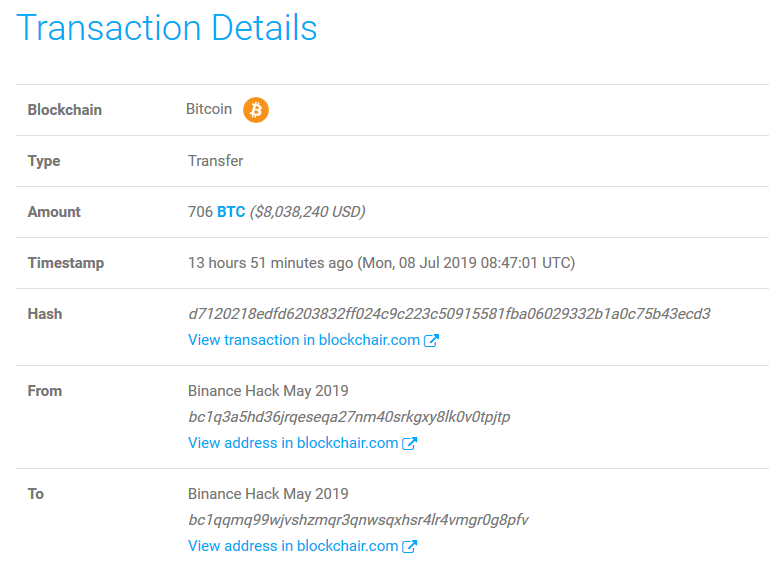 Some on twitter have pointed out that it will be rather difficult to sell this Bitcoin as everyone now has eyes on it, thanks to the transparency of the blokchain:
You can't sell it! @cz_binance got a very close eye on it

— CryptoHolic 🌮 ⚡ 🔑 (@Crypt0H0lic) July 8, 2019
This was however countered with the idea it could be sold on a darknet market, though likely not for the full value of the coin:
I guess it will be sold on the dark web for a discounted price.

— Xavier Rodriguez Perez (@XavierDeCrypto) July 8, 2019
Others joked that it was Binance CEO "CZ" behind the whole thing all along:
may be binance exit scam

— Aqeel (@Aqeel_stylish) July 8, 2019
Cz moving his stash

— Dollar bill (@ShilltonParis) July 8, 2019
Ultimately it is hard to say at this point who may be behind the hack or what they are planning to do with the coins. Even buyers from a darknet market may be slow to want to purchase Bitcoin that can clearly be traced from Binance, and trying to "tumble" the coin could come with its own complications given the size and infamy of the stash.
Will we ever get finality on this infamous hack? Stick with Chepicap for all updates!
Follow Chepicap now on Twitter, YouTube, Telegram and Facebook!

2 BITCOIN moves to watch now! ALTSEASON not happening yet.. Here's WHY!Subscribe to the Chepicap YouTube Channel for more videos!