Quant (QNT) CEO talks about U.S. expansion amid price rally
Quant is quite into an alt season of its own, as its price has been increasing against Bitcoin during the last months.
Gilber Verdian, Quant Network´s CEO, had an interview yesterday at BlockchainBrad´s channel. He shared some of his views on why the current momentum is a bullish one for Quant, starting with the possibility of more banks following JP Morgan´s path and creating their own digital assets.
That would put Quant into a favorable position to fulfill the role that Ripple has been trying to take over up to now, favoring operations between different bank blockchains.
CEO of @quant_network @gverdian & I catchup for UPDATE on $QNT's Next Gen. #interoperability OS! We talk #blockchain, tech that bridges business & breaks down tech silos using #MApps. + Sia's network of 570 Banks, #Overledger, @binance chain & MORE!

🔥👉 https://t.co/K7OEaFIWb2 pic.twitter.com/w4kejheKkA

— Brad Laurie (@Brad_Laurie) July 5, 2019
Interledger operability is one of the main selling points of Quant. Its infrastructure allows developers and businesses to launch applications which can be used across all existing blockchains, therefore offering a potential increase in the user reach of dapps, thanks to the mapps, or multi-chain applications, developed in Quant´s blockchain.
Currently, Quant´s trading volume comes mostly from its ETH and BTC trading pairs in Hotbit, with Fatbtc, IDEX and Bittrex hosting noticeable shares of the operations with QNT.
Regardless of the lack of traditional exchanges, its price has been increasing since early June, even outpacing Bitcoin´s rally as it can be seen in the chart below.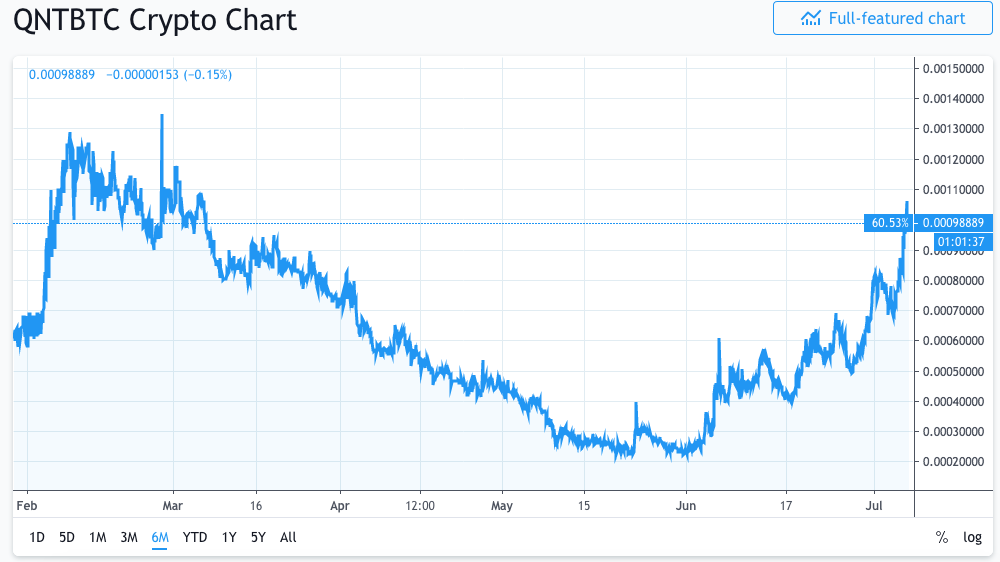 QNT/BTC chart provided by Tradingview.com
During the interview, Quant´s CEO revealed as well that there are talks in place with Binance to add Binance chain to their Overledger OS. With regards to other exchanges, Verdian assured that they´re currently under non-disclosure agreements with an undisclosed number of them.
With regards to their plans for expanding to the U.S. an Australia, he added that the company is building specific products for those markets meanwhile looking at exchanges and asset management solutions.
Follow Chepicap now on Twitter, YouTube, Telegram and Facebook!

2 BITCOIN moves to watch now! ALTSEASON not happening yet.. Here's WHY!Subscribe to the Chepicap YouTube Channel for more videos!