Analyst Willy Woo says investors are HODLing, not selling, the bull market
It has been reported by Bitcoinist that twitter Bitcoin analyst Willy Woo has noted that this bull run definitely doesn't look like the previous two. The swift ascent looks closer to the 2012 bull run, he notes, and this is supported by a shift towards investors HODLing their Bitcoin more than selling or trading it.
Here's the on-chain volume profile for BTCUSD

Red = volume during bears
Green = volume during bulls

Volume bars units is BTC moving on-chain

Notice how few coins are changing hands on-chain in this cycle. I put this down to more HODL activity off-chain, and more lockup. pic.twitter.com/ehwOB4Mnw0

— Willy Woo (@woonomic) July 2, 2019
Here is Woo's chart blown up: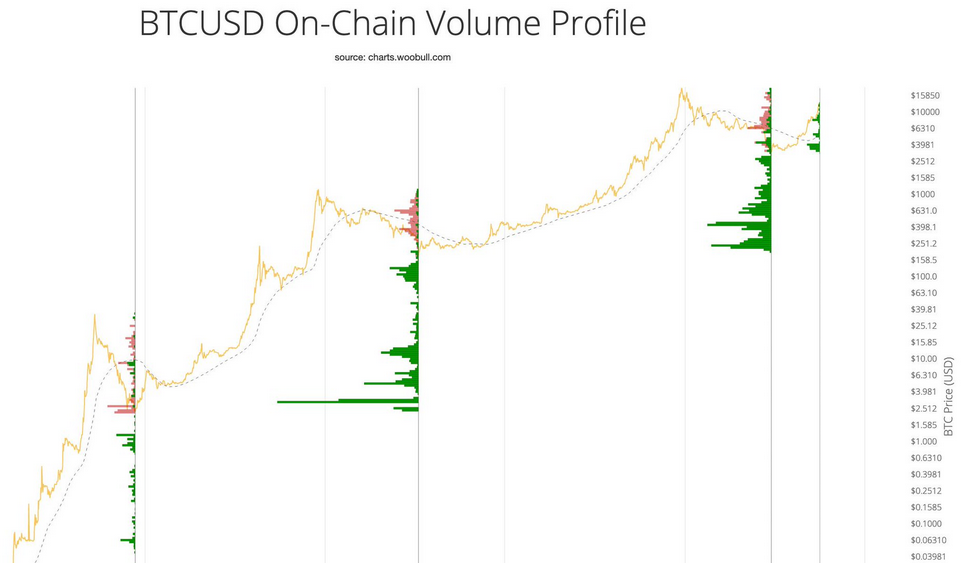 Woo is observing that there is both a profile similarity as well as on-chain volume that matches the 2012 bull run for Bitcoin more than the 2014 or 2017 bull runs. He speculates that a combination of investors HODLing, as well as a rise of off-chain transaction options, such as the Lightning Network, is leading this decrease in transaction volume.
Woo then speculates that if this rally does follow the 2012 market cycle, that we may see a dip to below $9,000 before higher highs:
If this 2019 bull season follows a macro structure akin to the 2012 bull. The volume support at (3) could form the base in which the main bull run launches. That's a really wide zone between $7800-$9000. I wouldn't call this a target, just a possible outcome if we repeat 2012. pic.twitter.com/MVqvdoBdBa

— Willy Woo (@woonomic) July 2, 2019
There is obviously no guarantee that history will repeat itself, but it is an interesting observation. Are we seeing aan evolution of the Bitcoin market? Stick with Chepicap for all price action updates!
Follow Chepicap now on Twitter, YouTube, Telegram and Facebook!

Alts INCREASING against BITCOIN! BTC shorts drop 67%! Subscribe to the Chepicap YouTube Channel for more videos!