Winners for the day: Tezos up 26%, Waltonchain up 25%
Tezos and Waltonchain have increased by 26% and 25% respectively in a day's time. Some news pieces related to each of the coins look like a potential reason for this upscale.
Winners of the day
Tezos price has scaled a whopping 26% over the last 24 hours trading at $1.1. The ROI for Tezos stands at 138%.
While we have Waltonchain as the runner up increasing 24.5% trading at $1.97. The ROI on it is approximately 86%. The figures correspond to the time of writing.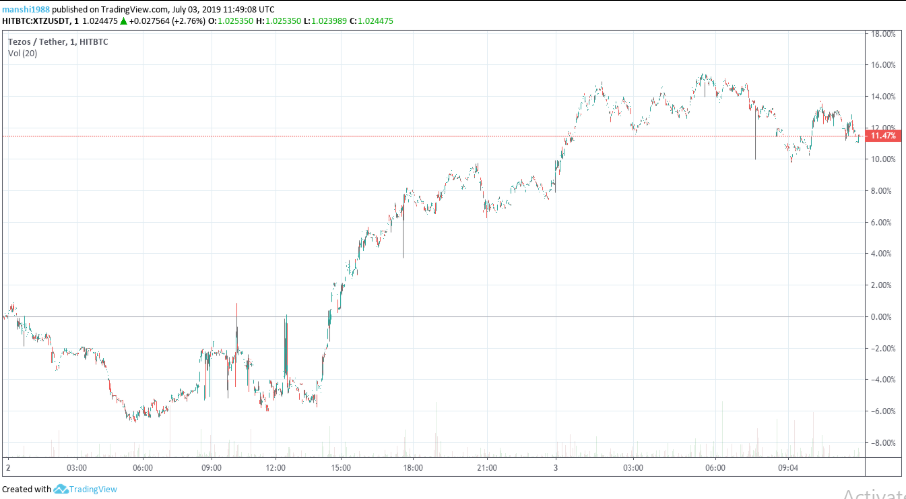 XTZUSDT Chart provided by Tradingview
Tezos news bit
Tezos is a decentralized blockchain that governs itself by establishing a true digital commonwealth that had a record-breaking ICO raising $232 million in a mere two weeks. What added to the spur in the price for the day is likely the fact that Elevated Returns has filed an application for digital exchange license with the Thai Securities Commission.
Elevated Returns is a financial group focused on digitizing traditional financial assets that has selected Tezos as the blockchain. This piece of news added to the market optimism and likely pushed the token price higher for the day.
Our digital exchange license application has been filed with the Thai Securities Commission . One step closer @tezos @ElevatedReturns

— Stephane De Baets (@StephaneDeBaets) July 3, 2019
While traders are happily trading volatility in Bitcoin the alt coin and XTZ are a monstrous buy here . Don't be shy @tezos @Bitcoin

— Stephane De Baets (@StephaneDeBaets) June 28, 2019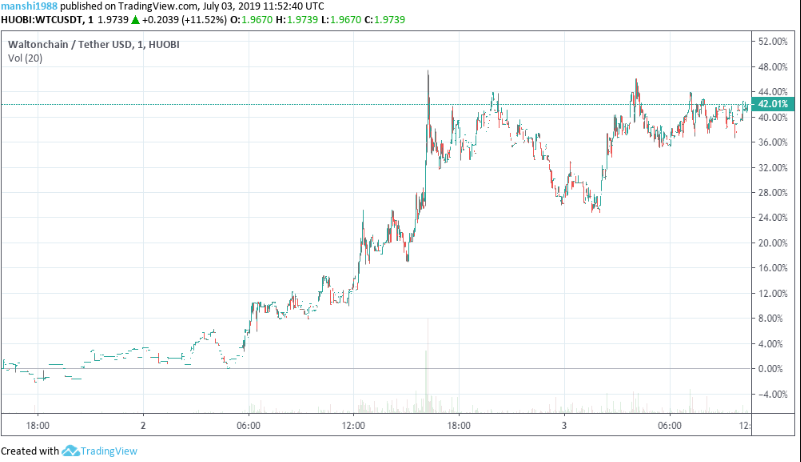 WTCUSDT Chart provided by Tradingview
Waltonchain news bit
Looking at Waltonchain part here, its Korea head, Mr. Kim Sun Kyung announced a cooperation agreement with Smart C&I, a Smart City project from South Korea. The partners will promote Smart City programs in China and Southeast Asia.
Smart C&I provides payment and settlement solutions for internal transactions in smart city parks and crop settlement using cards at smart farms. This partnership may have hit investor sentiment alongside the upward swing for the day in crypto markets.
On July 2, Waltonchain Korea partnered with South Korean #SmartCity project Smart C&I to promote Smart City programs in #China and #SoutheastAsia

We look forward to a fruitful future in our smart city development! https://t.co/R7GVn3dZqu#Waltonchain $WTC #Blockchain #IoT pic.twitter.com/kMif2wtFxy

— Waltonchain (@Waltonchain) July 3, 2019
Follow Chepicap now on Twitter, YouTube, Telegram and Facebook!