Study: IEOs are here to stay; are ICOs officially dead?
2019 is seeing a rise in IEO activity. the Initial Exchange Offering market may be set to overtake Initial Coin Offering market as several advantages of IEO are catching investor's eyes.
CRC study
A study by CRC Capital, a Chinese cryptocurrency investment bank suggested that IEO's are in for a long-term. IEOs are less time-bound, unlike ICOs that remained static in the fast-evolving cryptomarket. It also stated that the IEO mechanism more closely resembles the traditional market IPOs than ICOs.
The table below shows token offerings complete on Binance, Harmony, Matic, Huobi, Reserve, and Newton.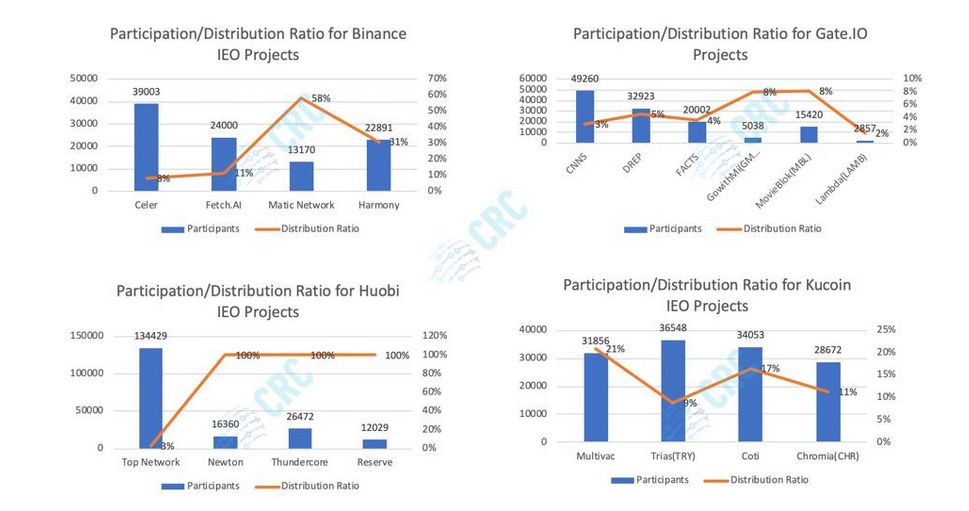 Lottery-based system
The exchanges are offering a lottery-based system, where more investors can participate, and it has a lower capital requirement. Many accomplished token offering by exchanges include BitTorrent, Veriblock, Ocean Protocol, Fetch.AI, and Matic.
Binance was launched on the Binance Launchpad via such lottery-based token offering.
IEO over ICO
IEOs or Initial Exchanges offering are the tokens offered by exchanges and not backed by any individual blockchain-based project like in the case of ICOs.
The primary concern for an investor in any new coin offering is that of liquidity. The downside of ICOs is that many early-bird investors were subject to scams as the tokens were not listed eventually. IEOs have a benefit here, as they have their exchange launchpad available which offers liquidity to the retail investor.
Some other advantages of an IEO over an ICO include that of an existing user base that exchanges provide. The exchange also stands tall as a vote of confidence for the investors. With the remergence of interest in the crypto space, IEOs seem like an easy go-to. Trust factor is a major winning factor for IEO over ICO.
Downfall and Scams
After the 2017 winter, and the massive downfall in digital currency prices, investor confidence tumbled. The ICO scams of 2017 and 2018 acted as a deterrent for investors and had attracted bans and many fundraisers losing interest in crypto-business.
The exchange benefits with listing fees and influx of added users and their deposits. It could also be a good play for marketing needs. Although IEOs have not yet been able to gather success like the ICOs. It seems to be on the horizon.
Follow Chepicap now on Twitter, YouTube, Telegram and Facebook!

Bitcoin over $12K! 5 Reasons WHY! Subscribe to the Chepicap YouTube Channel for more videos!