Dovey Wan raises $620,000 via BTC for Bitcoin developers
Dovey Wan is the co-founder of Primitive Ventures and Hard Core Fund. She raised 50 BTC worth more than $600000 to support Bitcoin developers. The founders are emphasizing on the betterment of Bitcoin ecosystem.
Dovey Wan, founding partner of Primitive Ventures, raised 50 BTC currently valued at $620,000 via Hard Core Fund for supporting bitcoin developers. Dovey had partnered with Bitmain's Pan Zhibiao to devise Hard Core Fund during 2018. The endownment also bought to table core Bitcoin developers like Luke Dashjr and Ben Woosley.
Hard Core Fund's purpose was to support smaller teams and independent full-time developers and promoting a better ecosystem for these developers. Though the founders are claiming no say on the developers work, they have shown special interest in products related to lightning network and improvements in network scale.
Huge shout-out to @bit_kevin, Patrick from Qtum, @bitfish1, WU Gang from Bitxin, and many more who are not on Twitter, blocked by GFW, but never doubt a sec that Bitcoin is the one truly global sound money

These Chinese Bitcoin warriors make https://t.co/9GeHBZTYDs possible

— Dovey Wan 🗝 🦖 (@DoveyWan) June 19, 2019
With Bitcoin prices skyrocketing, the value of money has also scaled significantly. 50 BTC was worth $500000 untill last week, now more than $600000 as of writing.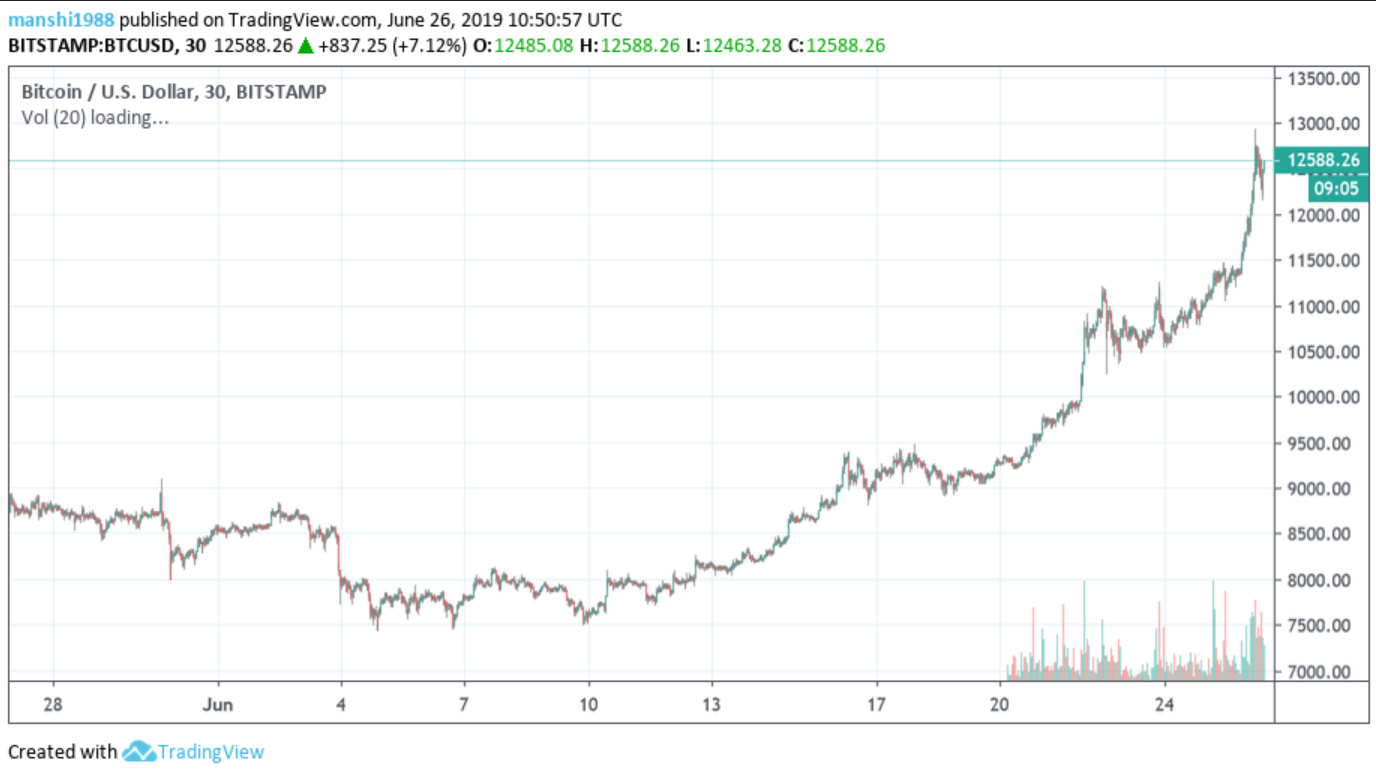 BTC/USD Chart provided by Tradingview
Jack Dorsey, Twitter CEO, has a payments firm called Square, that is buiding a team to support Bitcoin and other cryptocurrency development. Dorsey also indicated that he would want to rule out cheap stock options and rather opt for bitcoin salaries in order to "serve the community" better.
A few months back, it unveiled Square Crypto, that would be dedicated to the growth of decentralized networks through the use of development, design, and marketing. Square is potentially eyeing the bitcoin technology for application in other products as well.
Did you know that when you buy #bitcoin through #Robinhood, you don't own physical $btc. You own a #derivative. #Paperbitcoin. Sell that, download $SQ #Square's #CashApp, and buy/withdraw. $xbt $gbtc $gdx $gld $bar $nugt $fb #libra $ice #bakkt $tlt $ief $tyx $shv $spx $spy $qqq pic.twitter.com/IDjuL72WFz

— High-Yield Investor (@BoB2Trader) June 25, 2019
Follow Chepicap now on Twitter, YouTube, Telegram and Facebook!

Bitcoin over $12K! 5 Reasons WHY! Subscribe to the Chepicap YouTube Channel for more videos!