BTC hash rate touched new all time high, just before bull run
It has been reported by CryptoGlobe that the Bitcoin hash rate recently saw a new all time high, just days before the price broke $10,000. Though it has dipped since, the fact that the price continues to rise means it is plausible we will see more highs soon.
On June 19, 2019, the Bitcoin hash rate peaked at 65.19 TH/s. The last time the hash rate was even close to this was near the end of last year, before the November crash.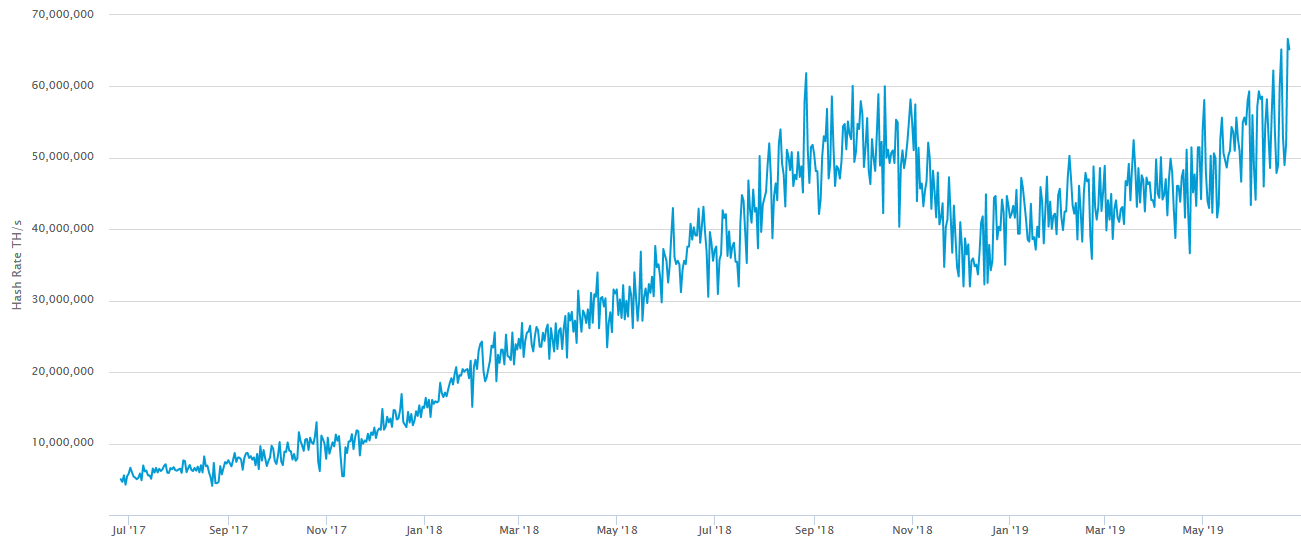 Source: Blockchain.com
It is hardly surprising to see the hash rate on the rise as the price of Bitcoin surges. A higher price of Bitcoin makes mining more profitable, encouraging more people to begin mining, and established mining operations to expand.
A higher hash rate also helps further secure the Bitcoin network. The more unique entities are mining, the more infeasible a 51% attack becomes. A 51% attack is when one entity manages to control 51% of the network, but with rates like these it would take astronomical amounts of money to pull off.
This is good news for Bitcoin security and also points to a surge of interest in crypto. Will we keep seeing higher highs? Stick with Chepicap for all updates.
Follow Chepicap now on Twitter, YouTube, Telegram and Facebook!

Bitcoin to $20K FAST, but only if THIS happens! $10K CROSSROAD Subscribe to the Chepicap YouTube Channel for more videos!