Market sees green as BTC test $11.4k resistance
Bitcoin has seen some positive action in the last 24 hours, breaking above $11,400. Most altcoins are slightly up, with some smaller cryptos seeing big double-digit gains.
Total market cap / BTC resistance:
The total crypto market cap is now up to $336.4 billion, gaining $6 billion in the past 24 hours. BTC resistance is up to 60 percent, for the first time since October 2017.
Bitcoin (BTC)
BTCUSD chart by TradingView
In the past few hours Bitcoin has twice broken above $11,400, which has been identified as an important resistance level, although a new resistance seems to have been found at around $11,450. It was initially rejected back down to around $11,000, but is now finding higher lows. There appears to be a significant disparity between BTC prices on different exchanges, with a range between $11439 (CEX) and $11372 (Bitstamp).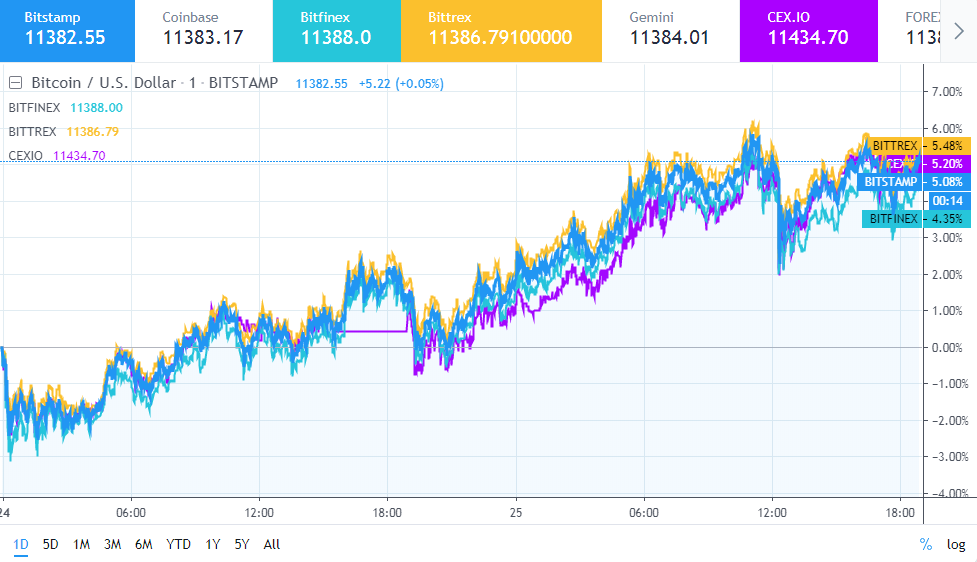 Top 10
The majority of the top 10 cryptos haven't followed BTC's lead, with mostly sideways moves. XRP is up by around 1.4%, while Binance Coin (BNB) is the worst performer, down by over 3 percent.
Hypercash (HC)
HCUSD chart by TradingView
Hypercash is the best perfomer in the top 50, gaining in price by almost 45 percent. The crypto, which is designed for value transfers between different blockchains is now ranked 37th by market cap, which currently stands at $263.1 million. Other big gains have been made by VeChain (VET), which has surged over 30 percent after news of a partnership with Walmart, and Chainlink (LINK), which is up over 27%.
Follow Chepicap now on Twitter, YouTube, Telegram and Facebook!

Bitcoin to $20K FAST, but only if THIS happens! $10K CROSSROAD Subscribe to the Chepicap YouTube Channel for more videos!