VeChain partners with Walmart, price surges by 30%
A new update just emerged from VeChain (VET). The Shanghai-based blockhain firm is reported to have a partnership with one of the largest retail companies in the US, Walmart.
The news was made public by Tom Foth, a senior director at Price-Waterhouse Cooper (PwC) who posted on LinkedIn just mere hours ago.
"At the Walmart, Vechain, PwC announcement of food safety tracking of foods Walmart sells in China. Vechain is providing the blockchain technology," Foth posted.
As of writing time, VeChain hasn't yet made any official announcements, however, CEO Sunny Lu can be seen of posting several tweets related to the partnership.
I really wan to wait for official release. And PwC Fellows are quite proud for what we have achieved together. https://t.co/inYlxpo9nO

— Sunny LU, VeChain (@sunshinelu24) June 25, 2019
1. It shows big enterprise like Walmart to explore production application to not only Private but Public Blockchain

— Sunny LU, VeChain (@sunshinelu24) June 25, 2019
3. Perfect collaboration with PwC and it's replicable!

— Sunny LU, VeChain (@sunshinelu24) June 25, 2019
4. Technically, cross-chain protocol between VeChain and the other is done. And we are ready to future model, I quote from someone from IBM "hybrid model is the future"

— Sunny LU, VeChain (@sunshinelu24) June 25, 2019
6. It's not just a "partnership", and it's a live project and application with valuable transactions to be seen by consumers

— Sunny LU, VeChain (@sunshinelu24) June 25, 2019
The partnership's early announcement seems to have a bullish effect on VET. As of writing time, it sees an impressive gain by 30.7% that brings the price to $0.009.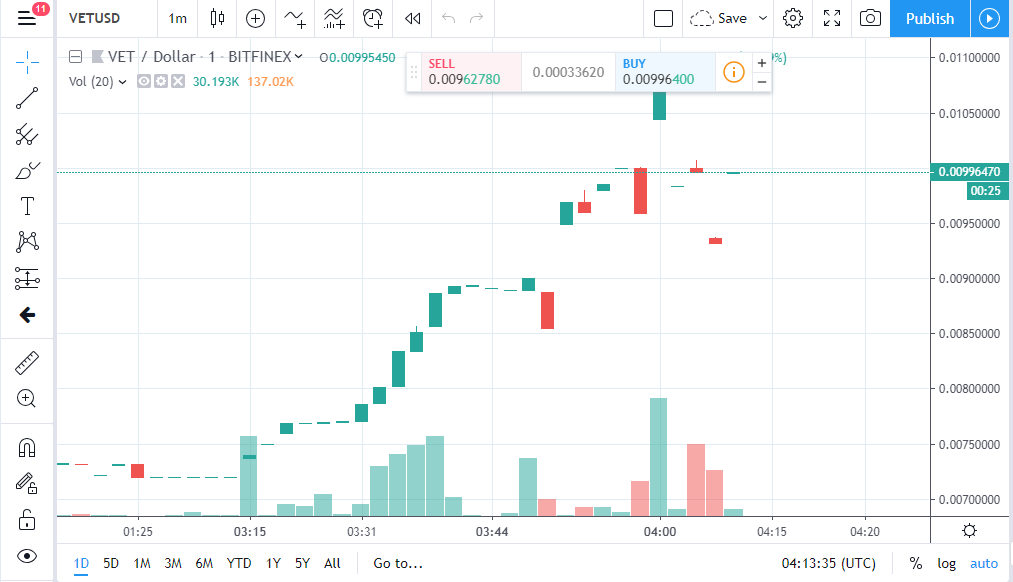 VETUSD Chart provided by TradingView
The "unofficial announcement" receives various comments from the crypto community, most of which are pretty excited for the upcoming collaboration.
Congrats to @sunshinelu24 and the Wal-Mart project for #vechain. Been holding a $VET X node for a long time.

Looking forward to seeing how you guys disrupt the supply chain industry. 🤘 pic.twitter.com/kviLFzIhJn

— Jacob Canfield (@JacobCanfield) June 25, 2019
My man! It is, confirmed by @sunshinelu24 CEO of VeChain right now writing a thread about it. This is going to blow up when people catch wind. $VET #VeChain

— HerroPreez (@HerroRobbi) June 25, 2019
Yeah it is... CEO just remarked on it. Badass for the whole space.

— Nick Rose (@imnotdonewritin) June 25, 2019
If this is real, I think this might start a mini $alts season!!

— JBMasterCrypto (@JBmastercrypto) June 25, 2019
Follow Chepicap now on Twitter, YouTube, Telegram and Facebook!

Bitcoin to $20K FAST, but only if THIS happens! $10K CROSSROAD Subscribe to the Chepicap YouTube Channel for more videos!