Bitcoin trading at $11700 in India - a $500 premium due to crypto ban
Cryptocurrency ban in markets like India and Iran are causing large trade premiums. While Bitcoin traded at its peak of $11200 on June 22, in India, it exchanged hands at the price $11700, a premium of whopping $500.
Digital currencies were banned in India in 2018. The central bank, Reserve Bank of India or RBI had ordered banks to stop servicing the crypto exchanges.
Binance CEO, Changpeng Zhao commented on the rising premium, suggesting that the ban is likely creating more interest in the cryptocurrency market.
The more it is "banned", the more people want it. https://t.co/weOVZGCaz3

— CZ Binance (@cz_binance) June 22, 2019
Spot on! India has

🔹5,000,000 Crypto Investors
🔹12,500 Blockchain Developers (2nd Highest)
🔹7.4% of all Binance Visitors (2nd Highest)
🔹Largest Crypto Community

The more they try to ban, the stronger we get 💪🏼 #IndiaWantsCrypto

— Shalini⚡ (@DesiCryptoHodlr) June 22, 2019
The fact is crypto doesn't need India but India needs crypto

— Anwa_ (@anwa531) June 22, 2019
''Virtual Currencies (VCs), also variously referred to as cryptocurrencies and crypto assets, raise concerns of consumer protection, market integrity and money laundering, among others... In view of the associated risks, it has been decided that, with immediate effect, entities regulated by RBI shall not deal with or provide services to any individual or business entities dealing with or settling VCs," said RBI during introducing the ban.
Such bans are highly criticized by the local cryptocurrency-loving communities that wish to take home gains from the bullish price run. Most trades in India are processed over-the-counter and via peer-to-peer markets. Crypto-related businesses are moved overseas after the ban.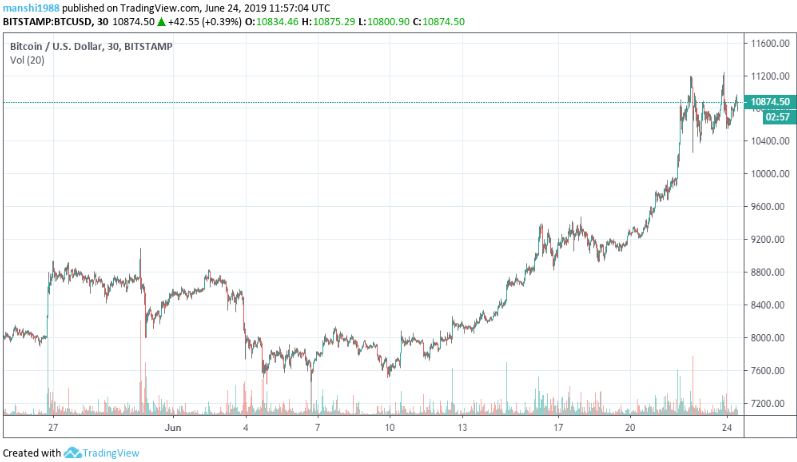 BTC/USD Chart provided by Tradingview
Iran is also facing a similar situation where the government is drafting bills to curb cryptocurrency related operations. This has led to a rise in bitcoin premiums ranging from 5%-30%.
#Iran's Decision to #Ban #Banks from Dealing with #Cryptocurrency Is #Unwise https://t.co/v0ZcgS14Z0 #bitcoin #blockchain #Crypto #Decentralization #Bitcoin #Blockchain #cryptocurrency #Cryptocurrency #crypto #altcoin #Ethereum #Stellar #BitcoinCash #Cryptocurrencies

— Adrian Brathwaite (@tarmedia) May 2, 2018
Do you think such bans by governments further lead to rising interest level for cryptocurrencies?
Follow Chepicap now on Twitter, YouTube, Telegram and Facebook!