"Bitcoin resurgence" cited as a reason for Asian stock boom
Bitcoin's appears to be causing a domino affect within the price of Asian stocks today as cryptocurrency related assets in Asia start to take off. LightStream research Analyst Supun Walpola, suggests that this is all part an parcel of their correlation with Bitcoin.
Asian stocks such as GMO Internet Inc. climbed 7% in Tokyo, marking an 8 month high, while Metaps Inc. increased by 11%. In Seoul, Vidente Co. rose by 5.4% and Woori Technology Investment Co. climbed 4.6%.
Boosted by Bitcoin
Speaking to Bloomberg, Walpola, asserted that it was the connection between these stocks and cryptocurrencies that were pushing the assets to new heights:
"Bitcoin resurgence should be a definite reason behind these gains. Going long on stocks that have exposure to cryptocurrency is something that we have seen in the past during a Bitcoin/cryptocurrency bull run especially with those who want to avoid the volatility of crypto but at the same time want to have some exposure into these markets."
Generally, Walpola notes, smaller companies tend to get the biggest boost than larger ones, however, these gains are prone to retracement as speculation outweighs the "actual benefit."
"something that we have seen in the past is that the stock prices tend to increase more than the actual benefit that these companies would get during a crypto surge, which has always resulted in immediate corrections," said the analyst.
As to what connection these companies actually hold, GMO, one of the largest firms amongst those listed as gaining from Bitcoins resurgence, deals with web-related services. A report by Jefferies & Co – a Wall Street investment bank – noted in a report from May that, "GMO will be putting more focus back on its Bitcoin mining business again," after relocating servers to an area with cheaper electricity.
Bloomberg correlated the price action of both Bitcoin and GMO, revealing a few striking similarities: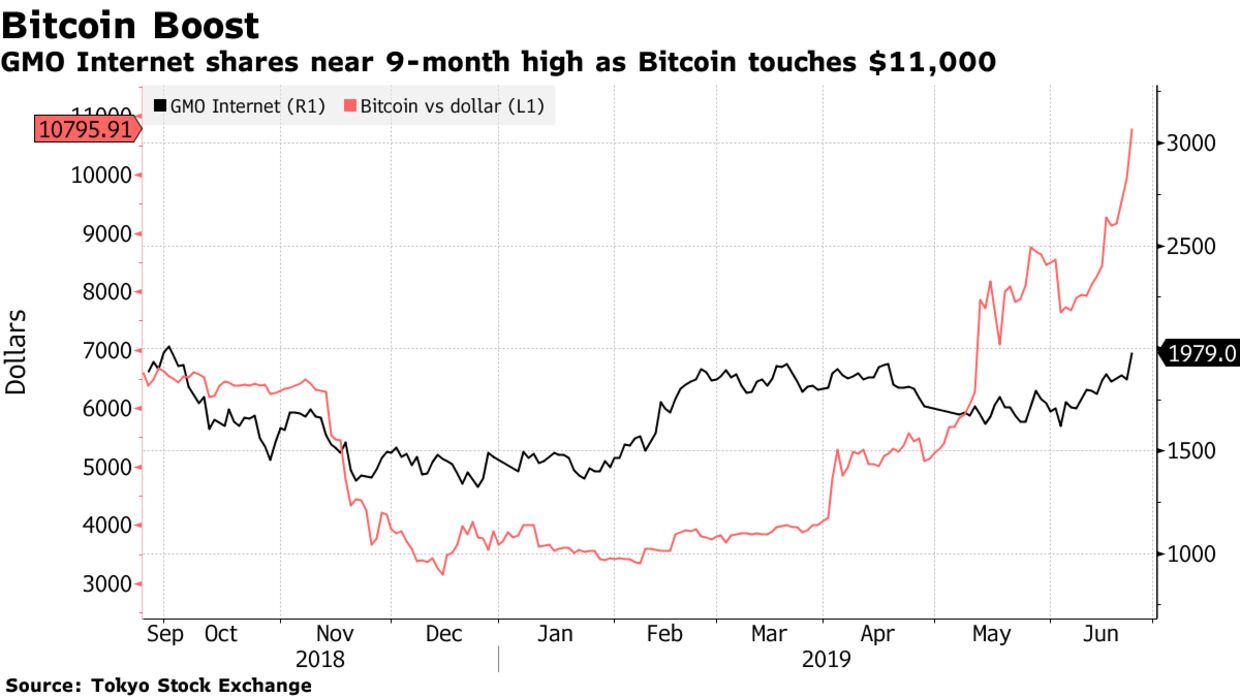 While investing in such cryptocurrency related stocks may seem like a relatively risk-free way of scalping cryptocurrency gains, Walpola caveated that success is often "short-lived"
"We have seen from past experiences that any success on this front is short-lived. Such strategies have often gone wrong when crypto markets turn red -- which could happen just about at any time."
Are crypto related stocks a good way for investors to expose themselves to cryptocurrency gains without much risk? let us know your thoughts in the comments below!
Help Chepicap to get listed in the Delta Portfolio App by voting HERE!
:rolled_up_newspaper: Let us know what news source you'd like to see added to your favourite crypto portfolio tracker!

Our chosen nominees are @Decryptmedia, @Utoday_en, @Benzinga and @Chepicap! :clap:

Results next Monday! Winner will be added few days later already! :sunglasses:

∆

— Delta - Bitcoin, ICO & Cryptocurrency Portfolio (@get_delta) June 20, 2019
Follow Chepicap now on Twitter, YouTube, Telegram and Facebook!