Google trends slow, despite 190% price gain in Bitcoin
Bitcoin prices are scaling at a fast pace. Up 190% in 2019 so far, but it still does not have enough support from the Google search trends. The retail interest seems to be low after 2018 slump but do we have a rebound just around the corner?
Bitcoin prices remain marginally shy of $11000 and are up almost 190% compared to where they were at the start of the year. However, this sudden optimism in the price is not supported by Google search this time around.
Hardly any retail interest so far. Only institutions/smart money adding to their positions, and they don't talk about Bitcoin on Twitter. https://t.co/ZXcoU6m3g9

— girevik (@girevik_) June 23, 2019
The last time when Bitcoin had witnessed such a large increase in its price, it was backed by the growing number of retailers showing curiosity. Google search engines supported the frenzy and December 2017 marked a high for bitcoin price crossing $19000. Google searches and prices peaked together during this crypto boom.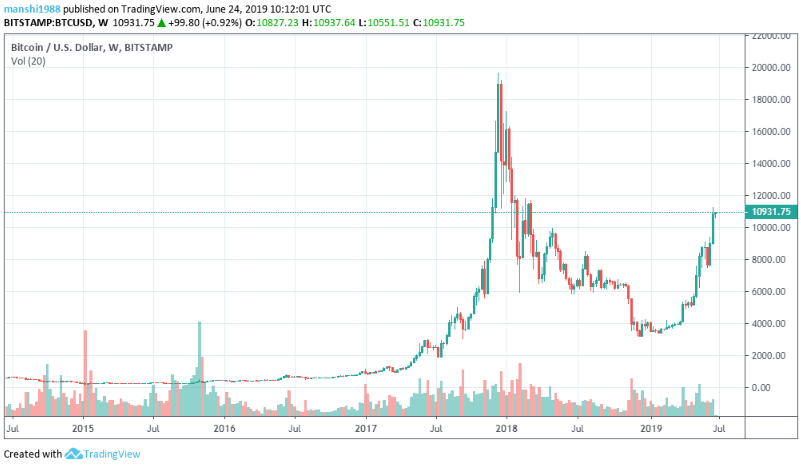 BTC/USD Chart provided by Tradingview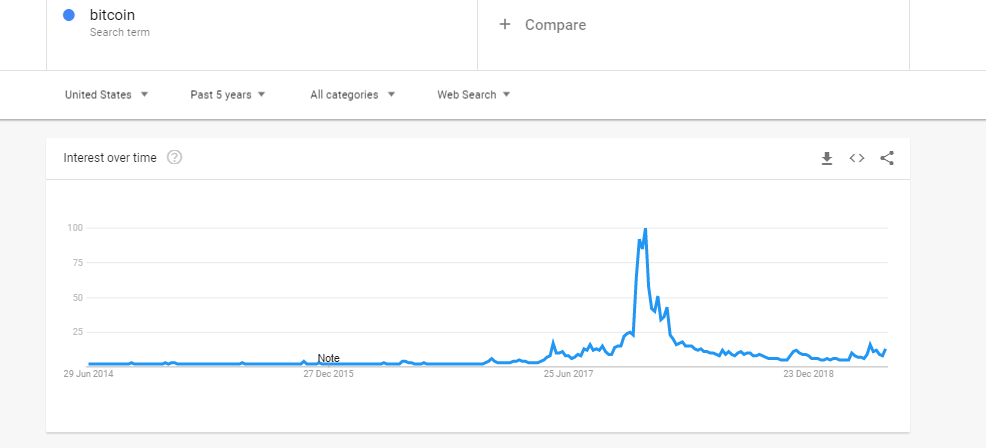 Though we witness a spike in keyword 'bitcoin' searches as compared to the last year, there is still sufficient room for growth. Search engines may aid in reading the market sentiment and could also be supportive of potential price movement.
Big spike for the keyword "bitcoin" on Google pic.twitter.com/OgWZKeDUK8

— Joseph Young (@iamjosephyoung) May 15, 2019
If we take a quick look at the correlation between Bitcoin search and price levels in December 2017, we have a strong positive number. Connecting the dots, if these search engine trends continuing pouring in more curiosity to the cryptocurrency market, prices could go flying high.
The institutional giants like Fidelity Digital Asset Services and the Intercontinental Exchange's Bakkt project are both due to launch in 2019, which could further aid the upside.
Do you think Bitcoin search is going to rise in the coming months? Let us know in comments.
Follow Chepicap now on Twitter, YouTube, Telegram and Facebook!

Bitcoin to $20K FAST, but only if THIS happens! $10K CROSSROAD Subscribe to the Chepicap YouTube Channel for more videos!