Blockchain firm Hedera claims Facebook's Libra copied them on a WSJ add
On Saturday morning, Wall Street Journal readers found a rather surprising add between their finance news. It appears as if not only Libra's logo is subject of discussion: one of the defining characteristics of Facebook's project is seemingly inspired in a key element of Hedera Hashgraph.
Crypto news site CCN talked to Leemon Baird, found and Chief Scientist at Hedera according to his LinkedIn profile. Baird disclosed a meeting that was held between his firm and Facebook executives about a year ago.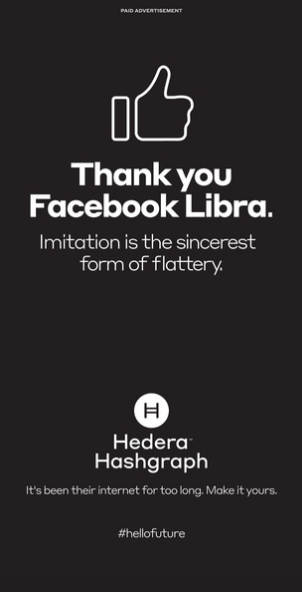 They had the expectation of boarding Facebook in as a client, but Zuckerberg's firm did not disclose much of their intentions and no further deals were achieved.
Even though Baird refused to call Facebook off for plagiarism and said that he does not believes they broke any laws, there are clearly some grudges in the air. The key point for the imitation accusation is the structure of a council of trusted companies to operate the blockchain, a format that Facebook has already sorted out with the additions of top level names such as Uber, eBay and others to the group behind Libra.
Similarly, Hedera has plans to establish a worldwide council with firms such as Deutsche Telekom and more.
Hedera Hashgraph was up to a great start this year, when Weiss Ratings mentioned them as a token which had options to skyrocket in positions by market capitalization.
Follow Chepicap now on Twitter, YouTube, Telegram and Facebook!

Bitcoin to $20K FAST, but only if THIS happens! $10K CROSSROAD Subscribe to the Chepicap YouTube Channel for more videos!