Altcoins start to pop: XRP, TRON, ETH and DASH aim for catching up with BTC
As many traders were expecting amid the currently ongoing Bitcoin bull run, there seems to be a certain upwards contagion towards altcoins in the last hours.
With NEO emerging as a clear leader for the top 20 altcoins by market cap and gaining more than 20% in a matter of minutes, other highlighted tokens are experiencing similar patterns of price growth.
XRP appears to be gearing up for new highs after breaking over $0.50 a couple hours ago, reaching price ranges which remained unseen since late 2018.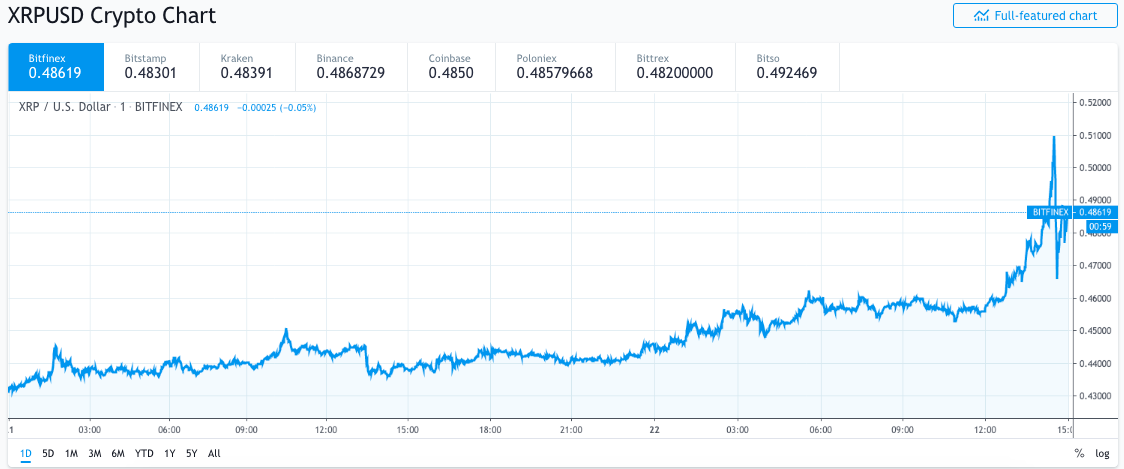 XRP/USD chart provided by Tradingview.com
Ethereum is also back in full force, having left clearly behind the $300 psychological resistance and trading now at prices last reached on August of 2018.

ETH/ USD chart provided by Tradingview.com
TRON and Dash are both trading about 9% higher than 24 hours ago, positioning themselves as the fifth and sixth runners in the chase for Bitcoin across the top 20 altcoins by market capitalization.
Follow Chepicap now on Twitter, YouTube, Telegram and Facebook!

Bitcoin to $20K FAST, but only if THIS happens! $10K CROSSROAD Subscribe to the Chepicap YouTube Channel for more videos!