100,000,000 new Tether minted today, will this carry BTC over 10K?
It has just been announced on twitter that a fresh 100,000,000 new Tethers (USDT) were minted only hours ago on the Ethereum blockchain. Some are speculating that this will pump the price of Bitcoin enough to send it finally above $10,000.
💵💵💵💵💵💵💵💵💵💵 100,000,000 #USDT (100,000,000 USD) minted at Tether Treasury

Tx: https://t.co/wh9SCWWErU

— Whale Alert (@whale_alert) June 21, 2019
The minting can be confirmed by following the link to Etherscan, which plainly shows the details of the transaction: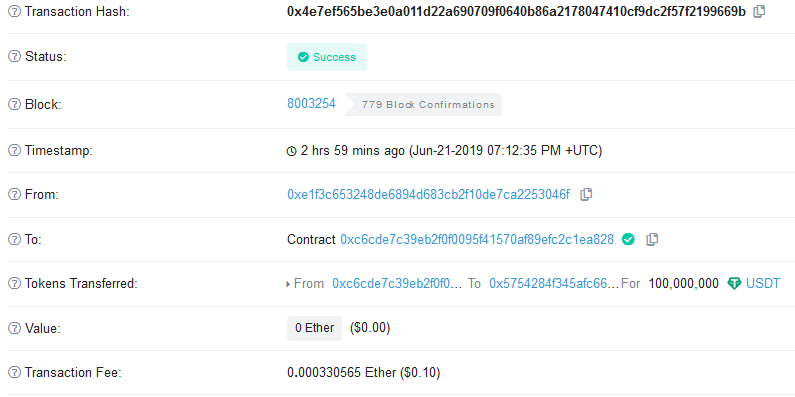 Many traders believe that Bitcoin tends to pump in the wake of new Tether being minted as often Bitcoin is what the new Tethers are created to purchase. This is supported by the fact that this isn't the first time recently that Tether has minted new tokens, and Bitcoin has been pumping alongside this.
Of course this reveal got a notable response on twitter:
Pump 🚀🚀🚀👀👏

— Deep Blue (@deep_blue99999) June 21, 2019
June 21, 2019
Some questioned the legality/wisdom of Tether being able to just "create money."
See: Federal Reserve

— Crypto Tim (@cryptotimicus) June 21, 2019
Others were confused as to how this causes Bitcoin to rise:
Tether created, 9900 Tether = 1 BTC. 100.000.000 Tether = 10.000 BTC , Buying BTC = prices goes up.

— Joshua (@itgRyan) June 21, 2019
Still others predicted this "pump" would just lead to a dump.
Prepare for 10k and tomorrow 8k you heard it her first

— The Prophet (@Greek_crypto) June 21, 2019
It is too early to say whether Bitcoin is about to hit $10,000, or if this will be the reason if it does. Still, stay rught here with Chepicap for all updates!
Follow Chepicap now on Twitter, YouTube, Telegram and Facebook!

Bitcoin to $20K FAST, but only if THIS happens! $10K CROSSROAD Subscribe to the Chepicap YouTube Channel for more videos!