Crypto community concerned about the state of ICOs
Initial Coin Offerings (ICOs) have been a mainstay in the crypto space ever since the crypto boom in June 2017. Some of the best ICOs have even hit 100x profit at their all time highs. 2018 has seen ICOs changing up their approach to crowd participation due to regulations, admin workload and eventually, profit to be made.
Most recently, community members on social media have been talking about the way QuarkChain(QKC) recently completed their ICO. The ICO raised over $16 million worth of private funding and allocated $4 million to community members.
QuarkChain's whitelist process included marketing participation, telegram group participation before a certain date, successful KYC, passing a quiz about the project and eventually those that got that far, went into a lottery where approximately 5000 were selected to be apart of the ICO. Keep in mind the telegram group has over 80,000 members.
QuarkChain sold out the public sale in one day which was expected. The ICO then released on over 5 exchanges the next day doing a 10x profit within hours of the public sale ending. This is unheard of in the ICO space currently.
Reddit members have become skeptical about what these hyped, over subscribed and marketed ICOs are bringing to the table. Reddit member XRballer has a completely different theory that seems to have gotten a lot of attention over the past few days: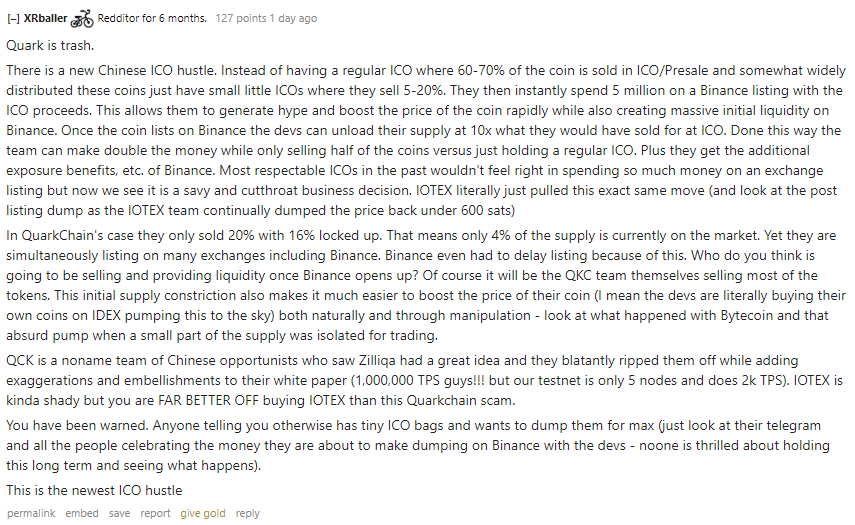 While the idea brought forward by XRballer does in fact make complete sense. A lot of community members on reddit appear to agree with him. ICOs are becoming more opportunistic and while the goal is to make money and release a successful product or service utilizing blockchain, it does raise questions about the morality of some of these companies.
QuarkChain managed to release on Binance, Gate.io and KuCoin on the day right after the ICO completion. This is without-a-doubt the first time an ICO has managed to list on three major exchanges and is currently now trading on 8 exchanges all within three days of ICO completion.
QuarkChain was also one of a very few coins who did not see any major pump occur when listed on Binance. The price in fact dropped over 30% once listed on Binance which was strange for such a well hyped ICO.
Reddit users mostly agreed with the statement by XRballer:



The idea presented by XRballer sheds light on ICOs that perhaps investors did not initially think about. While no one can prove the theory, it should be noted that doing your own research on a project is vital. While there is plenty of conversation surrounding the token metrics, whitelist process and actual product, QuarkChain ICO participants will be happy with how fast and successful the ICO was.