LTC up 5% as Litecoin launches Cryptocard
Litecoin Foundation join hands with Bibox Exchange and Ternio to issue its crypto version debit card. Litecoin price reacts with an uptick of 5%, trading at $137.
Litecoin announced on June 18 that it has teamed up with Bibox Exchange and Ternio to release a special edition Litecoin Blockcard. The soon-to-be-released card will enable users to transact either online or in stores, thanks to their alliance with Visa. However, this crypto debit card will only support Litecoin, Bibox token and Ternio token.
"This is an exciting partnership for us as it furthers the Litecoin Foundation's mission to create more use cases for spending Litecoin in everyday life. Leveraging Ternio's BlockCard platform with Bibox's exchange engine gives Litecoin holders unparalleled access to use their LTC at merchants around the world."- says Charlie Lee, the founder of Litecoin.
This piece of news by Litecoin Foundation gathered a mixed bag of reactions on twitter.
#PayWithLitecoin anywhere in the 🌎 where major 💳 are accepted w/ the soon to come #Litecoin debit card we've been working on w/ @terniotoken & @Bibox365!

Read more https://t.co/gQVIYFah8Z & download LoafWallet today for registration notifications https://t.co/FGMpGcKble⚡️

— Litecoin Foundation (@LTCFoundation) June 18, 2019
Hell yeah! Keep up the word of #litecoin, it will be #2 to bitcoin.

— Neirad Silva (@Dotcoindos) June 18, 2019
It is all about commissions, not about Litecoin. If you have to pay 3% to buy the coin and 3% to spend it, there is no difference compared to any other provider. What can you offer?

— TKDI for life (@ForTkdi) June 18, 2019
The Litecoin Foundation has made such attempts in the past and tried launching LitePay in March 2018. However, it was designed to support Litecoin-only crypto card. The foundation had blamed its failure on the CEO Kenneth Asare for not being accountable. The chances for success on this one seems better with the support of reasonably-sized crypto exchange. The Bibox Exchange and Ltecoin Foundation will soon inform the US-based users on the procedure to register for the card.
Though the success for this debit card may not be guaranteed, it is certainly welcomed by an uptick movement in the price of Litecoin of close to 5% since the release of this news.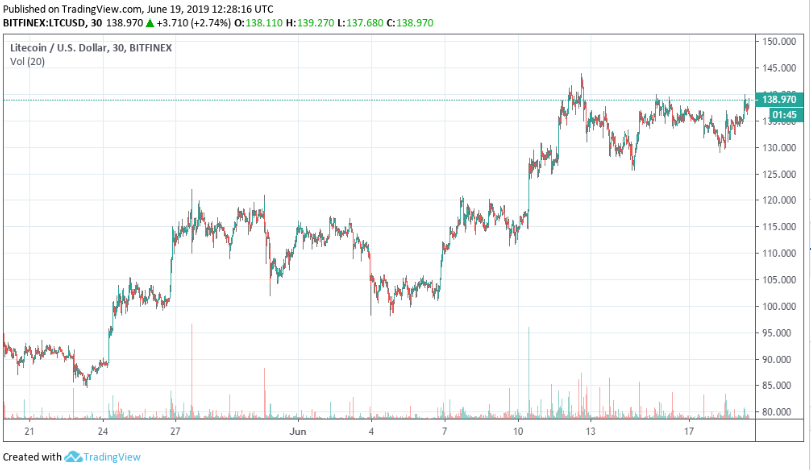 LTC/USD Chart provided by Tradingview
Do you think there is more potential for Litecoin price in the coming days? Let us know in the comments below.
Follow Chepicap now on Twitter, YouTube, Telegram and Facebook!

This trading strategy saw 48% gains from Bitcoin's ATH! Subscribe to the Chepicap YouTube Channel for more videos!