6 experts on Facebook's "cryptocurrency" Libra
Facebook's incipient "cryptocurrency" Libra, is currently the talk of the crypto town, with the social media firm finally revealing details about its foray into the cryptocurrency industry. But what are the experts of crypto sector saying about Facebook's addition to their space?
Talk of Facebook's cryptocurrency efforts has been echoing around the community for months, and finally, the Libra whitepaper is here. Already, scores of experts and novices alike have pored over the document analyzing every single clause and technical attribute.
First up:
1) Nick Cote:
Trader and analyst, Nick Cote, noted that following a statement from Maxine Waters - chairwoman of the US House of Representaives Financial Services Committee – Facebook may be possible ordered to cease its cryptocurrency activities; a drawback which Bitcoin (BTC) is yet to experience:
#Zuckercoin can be ordered to shut down.#bitcoin can't be ordered to shut down. https://t.co/1G7qCcSWau

— Nick Cote (@mBTCPizpie) June 19, 2019
Cote also compares Libra to the fictitious E-coin from the TV show Mr. Robot, relaying the potential future outcome of Facebook's cryptocurrency may include a total transaction surveillance:
Similar to E-coin in @whoismrrobot, Facebook now has an opportunity to create and control a global currency with 100% surveillance into all TX's

Possible future:
Step 1) Govs. express anger / calls to shutdown.
Step 2) FB agrees to 'work' with governments
Step 3) Govs. cceptance

— Nick Cote (@mBTCPizpie) June 19, 2019
2) Tone Vays
Taking the same stance, former Wall Street trader turned Bitcoin evangelist, Tone Vays suggested that Libra wouldn't be able to supersede BTC, noting that multiple national governments have already stepped in to review Libra, even though it's "centralized and compliant"
So within 24 hrs of #Libracoin paper multiple Gov's (incl. US & EU calling for half/review). AND this project is totally Centralized & Compliant
Now image if they even suggested something Decentralized.
People just don't get that ONLY #Bitcoin may succeed. Can't replicate 2009-11

— Tone Vays [#UnderstandBit] (@ToneVays) June 19, 2019
3) Andrew Yang
Taking a more positive view on it, Andrew Yang, one of the presidential hopefuls for the 2020 US elections, noted that the Libra venture could be a "big step for the hundreds of millions of unbanked around the world," continuing to praise the use of blockchain technology:
The new Facebook-backed cryptocurrency Libra could be a big step for the hundreds of millions of unbanked around the world. It's use of the blockchain makes a lot of sense. Could even curb corruption as a lot of int'l aid money intended for impoverished people never reaches them.

— Andrew Yang (@AndrewYang) June 18, 2019
4) Wang Xiaochuan
According to a source, CEO of Sogou – one of Chinas foremost search engines – called the Facebook imitative, "internet 3.0," relaying that the company has a myriad of advantages such as the sheer number of users who will come to use Libra:
Source: https://t.co/aDFRVE2ECU

— cnLedger (@cnLedger) June 19, 2019
5) Nouriel Roubini
Annnd right back to the haters. This time coming from Bitcoin basher and all-round negative Nancy, Nouriel Roubini.
Surprisingly, for once, Roubini is on the same page (for the most part) as almost every other commentator in the crypto community, sharing that Libra is a "not-trustless, centralized oligopolistic members-only club" … Woah there, Roubini, you're almost starting to sound like you're becoming one of us.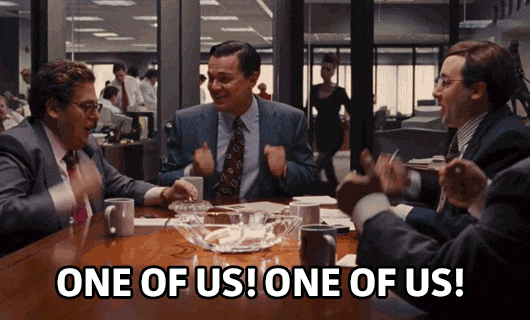 The famed economist decided to continue his doom and gloom rhetoric he usually reserves for crypto criticizing, and instead spread the love hate to Facebook; noting that Facebooks cryptocurrency will make a fortune for the firm and leave little to no financial incentives for its holders:
Facebook Coin will make a fortune for FB & its investors by earning interest on "float", ie users' balances (as funds invested in safe interest-bearing gov bills) while pay 0% on such users' balances. Rip-off! I rather keep my money in $ fiat & earn 2.5% on safe overnight rates!

— Nouriel Roubini (@Nouriel) June 17, 2019
6) Eric Voorhees
Lastly, we have Eric Voorhees who swung to the positive side of Facebook's entry to the market, urging the community to look at the bigger picture and at how far the industry has come.
Conversely to the rest of the community, Voorhees argues that Libra actually holds many characteristics similar to cryptocurrencies regardless of the naysayers:
2/ I know, I know, "it's not a cryptocurrency!!!" some will yell. Well, yes and no. Relative to PayPal or to the US dollar, Libra is very much a cryptocurrency. Relative to Bitcoin or ZCash or DAI, Libra is not all that crypto-y.

— Erik Voorhees (@ErikVoorhees) June 18, 2019
In this vein, the ShapeShift CEO noted that Libra may act as a catalyst for the rise of cryptocurrencies:
5/ Libra will serve the mass market, and be the single largest bridge toward decentralized finance that has ever been built. Prior to this, the largest bridge was Coinbase, which has played an integral role in crypto's rise.

— Erik Voorhees (@ErikVoorhees) June 18, 2019
Moreover, Voorhees says that the fact that Facebook decided not to back Libra solely with USD means that its "arguably superior to the US dollar… that's got to count for something….
He also relayed that Facebook plans to extend its decentralization:
9/ Next, Libra has the potential (and current plan) to go from "a little decentralized" on day one, to "moderately decentralized" within a few years of launch. The plan is clearly to gradually decentralize with time. Good plan, we'll see if they can actually do it.

— Erik Voorhees (@ErikVoorhees) June 18, 2019
However, on the flip side Voorhees too mentioned the regulatory challenges that Libra will face, also adding that in achieving stability, Libra will potentially look to be backed with either fiat or treasury bonds.
13/ Next: Libra achieves stability (a critical feature for most normies) by backing the coin with a basket of a) government fiat, and b) government debt (bonds). Personally, I want nothing to do with either of these "assets."

— Erik Voorhees (@ErikVoorhees) June 18, 2019
Where do you stand on Facebook's Libra? Do you think this will be a good thing for the cryptocurrency industry, or will it be its downfall? Let us know your thoughts in the comments below!
Follow Chepicap now on Twitter, YouTube, Telegram and Facebook!

This trading strategy saw 48% gains from Bitcoin's ATH! Subscribe to the Chepicap YouTube Channel for more videos!