Moneygram surges 176% on Ripple partnership, XRP 0%, community not happy
As Chepicap previously reported, one of the 'hot crypto' stories of the past 24 hours was Ripple's announcement of a partnership with MoneyGram, and although Moneygram saw a huge price jump on the news, XRP, one day later, has not much to show for price-wise.
With the partnership now officially confirmed, XRP was up again for the 24h period, but only by 8% or so, while its partner Moneygram, one of the world's largest money transfer companies, surged with a 176% gain on its shares following the news.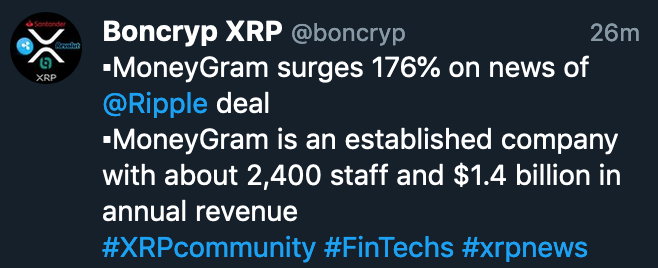 Despite Moneygram seeing a massive spike in price, the news didn't do much for Ripple's XRP.
On the contrary, from $0.425 yesterday, XRP jumped to about the $0.46 price level, seeing a rise of about 8%, only to be trading at $0.430 again just one day later, showing a 24 hours loss of 2.46%.
Pretty much annihilating the 8% gain on the day. Ouch!
Full on manipulation to keep the price low until they are ready.

— Talented Mr Rippler XRP (@Sell_Seven) June 18, 2019

The lack of an XRP pump has puzzled many of the XRP investors, however, one crypto trader and investor, going by the Twitter handle, Credible Crypto, said that this doesn't mean XRP is bearish.
In his tweet he explains that XRP has been expecting further consolidation, and as his chart shows us, more investors pain can be expected before the third most popular cryptocurrency shows any bullish upticks.
So far so good. Lots were expecting a massive pump here on the moneygram news and seem to think the fact we didn't get it is bearish. Rather, we have been expecting further consolidation for some time now. Trade the charts, not the news. $XRP pic.twitter.com/XKkZUGp4Vb

— Credible Crypto (@CredibleCrypto) June 18, 2019
However, many in the crypto community are not as positive about XRP's stagnant behavior, and have one question mainly: Why doesn't XRP pump?
$XRP show me on this chart where the "big news" hit - pic.twitter.com/walZCRzv4j

— Big Cheds (@BigCheds) June 18, 2019
I heard there renaming it $scam coin

— Bottom Trolling (@BottomTrolling) June 18, 2019
what about Xrp price.... what happened there. Stock Market doesnt normally move like that. Crypto does... :P

— Magnetic Disruptor (@MagneticDisrup1) June 18, 2019
Moneygram price is pumped up ~125%. XRP price is dumping at the same time. Why? Where is the logic? What i'm missing out?#XRP #XRPcommunity #xrparmy

— XRP ERA (@mortoom) June 18, 2019
That s cool, how do you explain xrp does nothing, do you manipulate the price, the community has big suspicion at the moment

— Raphael (@Raphael24957962) June 18, 2019
Do you think XRP will still pump on this news? Let us know in the poll below.
Follow Chepicap now on Twitter, YouTube, Telegram and Facebook!

EXCLUSIVE: What's next for Binance?! Margin Trading Update | CGO Ted Lin Subscribe to the Chepicap YouTube Channel for more videos!