Mixed reactions on Twitter and Reddit to Facebook´s Libra whitepaper news
The cryptocurrency project of Facebook and a bunch of rather large firms, is keeping its lead on crypto headlines one more day. The publication of their whitepaper and website earlier today has triggered more commentaries from highlighted voices in the industry and the space.
Coinciding with the publishing of the whitepaper and website of Zuckerberg´s first foray into crypto, Binance has just released a report about Facebook´s Libra, with very positive conclusions regarding its macroeconomic implications. Just to name a few, the research department of CZ´s exchange considers that Libra could "reshape the payment industry, increase offerings of financial services, advance greater freedom of money and lower capital restrictions worldwide, un-dollarization of the world". Another interesting insight from the report is a comparison with JP Morgan Chase´s own crypto, outlined in the table below: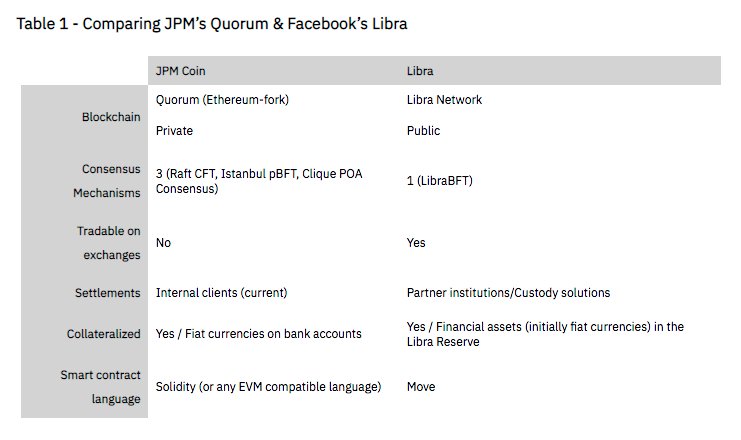 There appears to be room for skepticism as well into Binance´s first look at Libra, especially when it comes to the possible effects of Facebook´s token for the crypto ecosystem. It is mentioned that in the long­-term, Libra could hold back the growth of end-user payment implementations for blockchains such as Bitcoin´s Lightning Network, unless the main crypto by market cap was to be included into Libra´s basket of financial assets which serve as a reserve.
Reactions on crypto Reddit to Libra´s whitepaper have been overwhelmingly not welcoming.
Meanwhile, on Twitter there were certainly some voices which were glad to have Facebook into the crypto ecosystem, mostly for the expectations attached.
Welcome to the #blockchain world, @facebook Libra😉
Great for #blockchain. Benefit for all #crypto. Mass adoption . #TRON

— Justin Sun (@justinsuntron) June 18, 2019
It's amusing to see some of the CT reactions on $LIBRA
FB spent tonnes of money to research, consultants, hired loads of experts building their own blockchain team, writing a massive white paper, but yeah, hobby traders are financial experts and know it better.
Sure

— Crypto_Ed_NL (@Crypto_Ed_NL) June 18, 2019
thos lybra /fb coin /token stuff
is a #BTC libertarian buy signal
a strong one
but as always market can reack in other way
in the mind time we are mooning
be ready the big brother is coming for you
or your freedom bags pic.twitter.com/I6lxIWjE8T

— mocho17™® (@cryptomocho) June 18, 2019
However, dissident opinions from that line of thought have been manifesting as well, with Bitcoin personality Andreas Antonopoulos talking about a "deal with the devil" in relation to the extended implications of Facebook's latest endeavor.
We are now officially in the "bargaining" stage of the 5 stages of grief for traditional financial services.

In order to bargain, the financial industry made a deal with the devil and got a fake blockchain in return.

— Andreas M. Antonopoulos (@aantonop) June 18, 2019
Libra will be backed by the USD, a currency that has lost more than 99% of its value to #bitcoin in the last 10 years. Why it is called a "stablecoin" boggles my mind. Maybe they mean "stable" as in a horse stable... you know, the thing your horse takes a shit in? 🤔🐴💩

— A v B (@ArminVanBitcoin) June 18, 2019
Follow Chepicap now on Twitter, YouTube, Telegram and Facebook!

EXCLUSIVE: What's next for Binance?! Margin Trading Update | CGO Ted Lin Subscribe to the Chepicap YouTube Channel for more videos!