BNB the biggest gainer in top 10 after CZ's AMA, BTC holds above $9K
After an AMA session hosted by their CEO, Binance Coin (BNB) becomes the biggest gainer in the top 10. Bitcoin (BTC) still hovers in the lower region of $9,000
Top 10
BNB sees a 5% gain, which brings the price to $34.6 and makes it as the biggest gainer in the top 10. This may have anything to do with the recent AMA session hosted by their CEO, Changpeng Zhao just hours ago.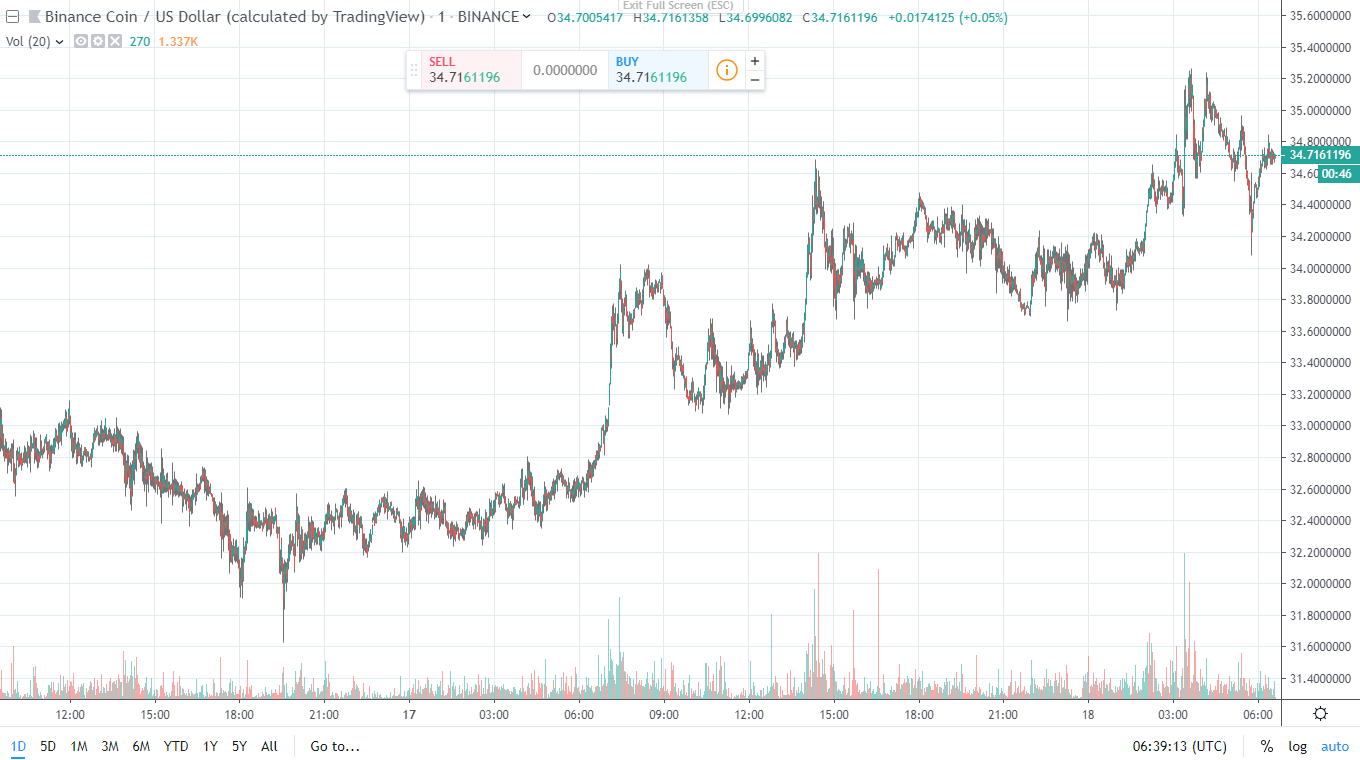 BNBUSD Chart provided by TradingView
Bitcoin still holds above $9,000 after seeing a 0.3% increase. It is currently traded at around $9,160 to $9,180 at various exchanges, such as Coinbase, Gemini, Bitfinex, Bittrex and Bitstamp.
The other gainers in the top 10 are XRP with 3.4% at $0.4 and Bitcoin SV (BSV) with 3.2% at $220. On the other hand, the biggest loss is seen by Litecoin (LTC) with -2.8% at $131, followed by Bitcoin Cash (BCH) with -1.6% at $422.4.
Top 100
Chainlink (LINK) sees an impressive 18.3% gain at $2 value, followed by MonaCoin (MONA) with 13.9% at $2.3 and ZCash (ZEC) with 13.1% at $107.3 price level.
The biggest loss in the top 100 is -16.6% which is experienced by Maximine Coin (MXN) that brings the level down to $0.04. It is followed by MaidSafeCoin (MAID) with -6.8% at $0.16 and aelf (ELF) with -6.3% at $0.2.
Total crypto market cap is $286,009,901,677.
*All prices are correct as of writing time
Follow Chepicap now on Twitter, YouTube, Telegram and Facebook!

EXCLUSIVE: What's next for Binance?! Margin Trading Update | CGO Ted Lin Subscribe to the Chepicap YouTube Channel for more videos!