BTC holds above $9K, some alts follow the bullish move, some don't
Bitcoin still holds above $9,000 after the recent pump. Some altcoins in the top 100 are also bullish, although some aren't.
After the recent weekend pump that brought Bitcoin (BTC) above $9,000, the largest crypto still maintains its bullish move. Some altcoins on the top 10 are riding the wave, some others don't.
Total market cap as of writing time is $285,223,000,078.
Top 100
After breaking above $9,000 just a couple of hours ago, Bitcoin still manages to hold above it. It is now traded at slightly above $9,200 at major exchanges, such as Coinbase, Bitfinex, Gemini and Bittrex.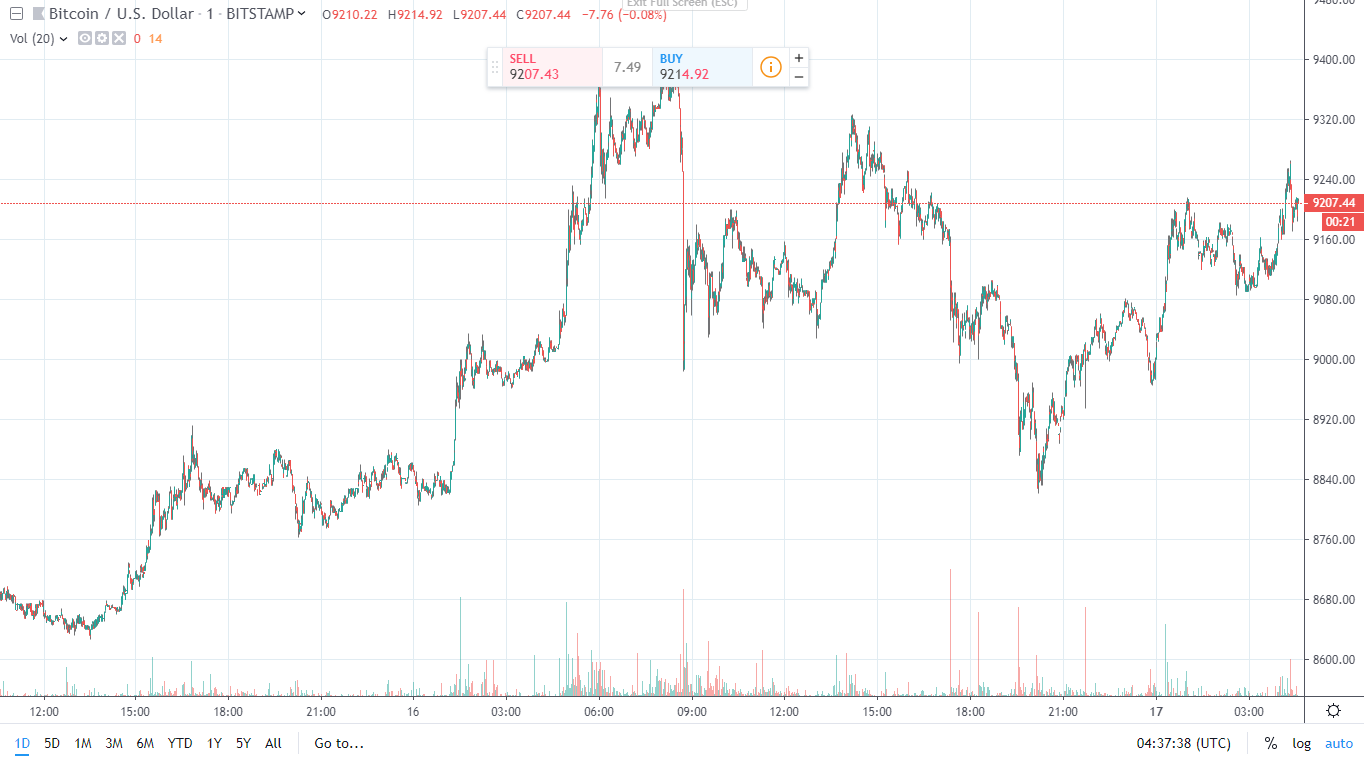 BTCUSD Chart provided by TradingView
Not all coins on the top 10 are riding the bullish wave, though. Ethereum (ETH) sees a 1% loss at $269, while Litecoin (LTC) and Binance Coin (BNB) see a 0.75% and 0.54% loss at $136 and $32.5 value respectively.
The other gainers in the top 10 are XRP with 2.8% gain at $0.43, followed by Stellar (XLM) with 1.1% gain at $0.12 and EOS with 0.7% gain at $7.
Top 100
The biggest gainer in the top 100 is GRIN with 12.2% at $5.4, followed by Bytom (BTM) and BitTorrent (BTT), both see a 11.2% increase at $0.18 and $0.001 price point respectively.
Meanwhile, the biggest loss is seen by Nebulas (NAS) with -6.6% at $1.5, followed by DENT with -5.6% at $0.001 and Chainlink (LINK) with -4% at $1.6 value.
*All prices are correct as of writing time
Follow Chepicap now on Twitter, YouTube, Telegram and Facebook!
EXCLUSIVE: Peter McCormack: "Bitcoin will lead to less wars, less bombs, less BULLSH*T!" | Chepicap Subscribe to the Chepicap YouTube Channel for more videos!