BTC breaks $9,000! Will we see $12,000 by the end of July?
Bitcoin just broke past the $9,000 price mark today, and according to one analyst, we could see the world's number one crypto coin hit $12,000 by the end of July.
Gains of around 5.40% for the 24h period pushed the Bitcoin price past the $9,000 price level on most exchanges.
The world's most popular cryptocurrency is currently trading at around $9,185 on Bitstamp and Coinbase, and is sitting at $9,127 according to coinmarketcap.com.
hello bitcoin $9k, what a nice Sunday morning surprise

— Joseph Young (@iamjosephyoung) June 16, 2019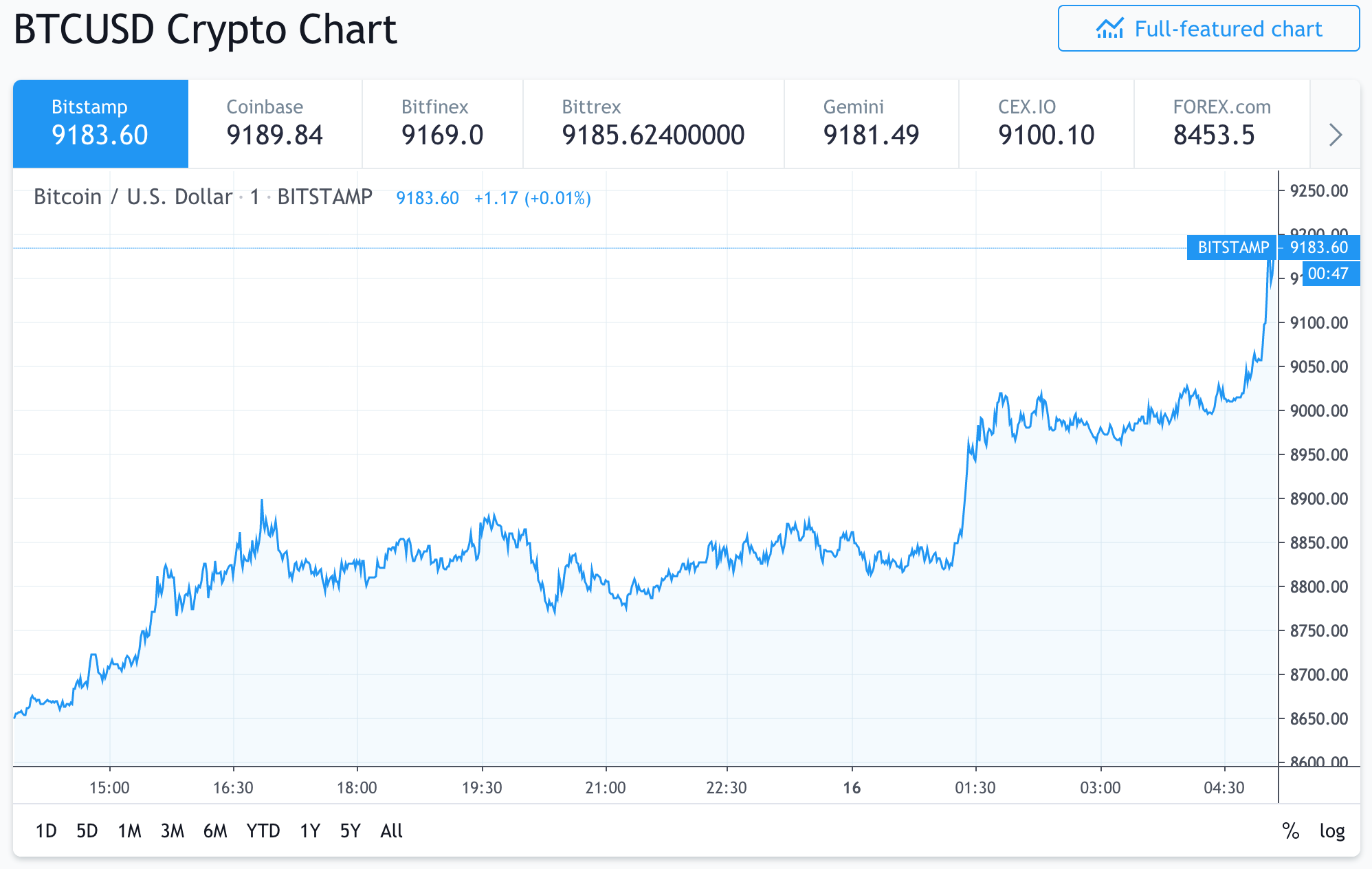 BTC/USD chart provided by Tradingview
Crypto Twitter points out that this is the 10th time in recent weeks, that Bitcoin is crossing the $9,000 price mark, while it attempts to remain there decisively, and that the very bullish crypto coin is hitting new 2019 highs again.
Bitcoin is crossing 9000 for the 10th time. This is it 🤟

Where next? pic.twitter.com/Z8MBnTwIhS

— Siddharth ( WazirX ) (@BuddhaSource) June 16, 2019
$BTC just traded new year highs.

Next major resistance levels: 9600, 10000, 11500-11750, 13000, 15000, 17400, 20000, moon.

— Alex Krüger (@krugermacro) June 16, 2019
Popular crypto trader, Red, in the meanwhile suggested yesterday that there is an obvious similarity between Bitcoin's April of 2018 price action and its current price action, which, according to the trader, might be an indication that BTC will continue to surge until it reaches $12,000 by the end of July.
Comparison of April 2018 price action and present day June 2019 price action.

Second image shows how price is currently being developed around 2.5x in % terms, and taking 3x as long to do so.

This would put $BTC around $12,000 by the end of July! pic.twitter.com/S7EZYwqZ0M

— red (@redxbt) June 14, 2019
Perhaps we can take a moment, and remember those who are still waiting for BTC to drop back all the way to $5,000 ...
#Bitcoin $9000 📈 pic.twitter.com/0G55A3VsTh

— CryptoDjinn 🧞‍♂️ (@CryptoDjinn) June 16, 2019
Will we see Bitcoin at $12,000 by the end of July? Let us know in the poll below.
Follow Chepicap now on Twitter, YouTube, Telegram and Facebook!

3 Altcoins to Watch this Bull Run! What's next for LTC, ADA and ZEC? Subscribe to the Chepicap YouTube Channel for more videos!