Bulls are back in play! BTC ready to break $9,000
Bitcoin started to leap forward again after a week of consolidation, from an intraday low of around $8,200, surging towards its current price of around $8,970.
Although many crypto experts continued to anticipate a selloff and larger correction, the world's number one cryptocurrency, once again, has denied them this reality.
At this very moment the bulls are back in play, as BTC is seemingly finding its way to break above the $9,000 price level.
BTC surged from an intraday low of around $8,200 on Friday, breaking this resistance level, to a high of $8,970 today. Bitcoin's surge had the usual effect of lifting most of the altcoin market with it.
Bitcoin volume is currently sitting at 18.5 billion.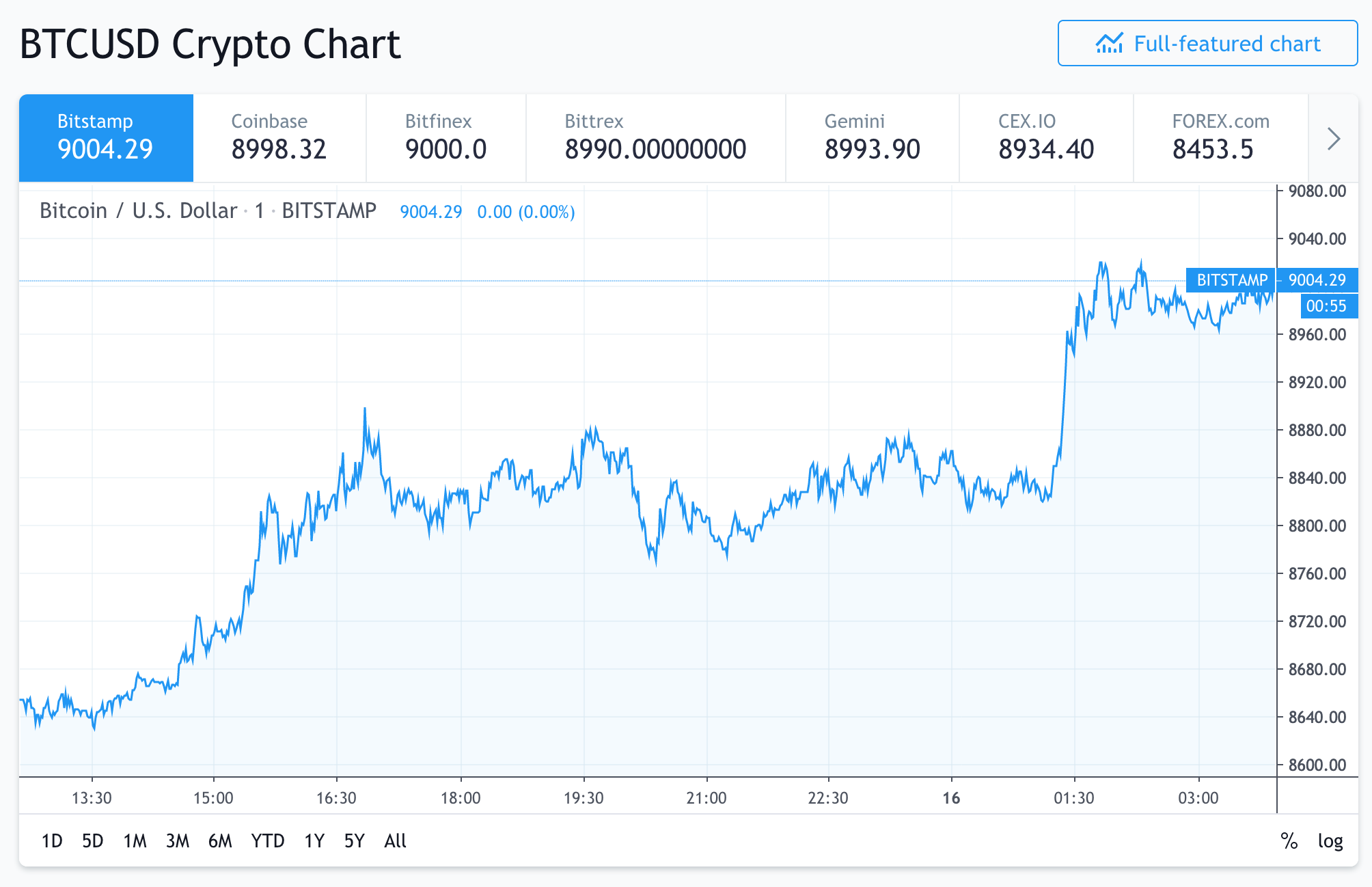 BTC/USD chart provided by Tradingview
Crypto Twitter is waiting in anticipation for BTC to break the $9,000 price level once again.
Trader Josh Rager pointed out that the weekly close above $8,740 could actually be a sign of a continuation to new yearly highs.
$BTC Weekly "Bullish Engulfing" Candle

Strong uptrend followed by pullback with "bullish engulfing" candle led to continued uptrend last bull cycle

Current uptrend is showing similar patterns

The weekly close above $8740 could likely signal a continuation to new yearly highs pic.twitter.com/02DFn2O3zr

— Josh Rager 📈 (@Josh_Rager) June 16, 2019
Others are taking to Twitter to share their views on where BTC could end up by the end of the weekend.
I think #bitcoin could go to $9300+ but I have moved my stops up to take profits just encase we actually get rejected from $9000 range 👀

— CryptoSourcerer (@CryptoSourcerer) June 16, 2019
I told ya so. All of ya! Meet me at 10k. Maybe I'll let you have some of my Victory Cake! pic.twitter.com/QpxOfsm32A

— Jesse Feinberg (Darth Crypto) (@ToolFreeCrypto) June 16, 2019
But most are just happy they can bring out the the all-famous vegeta memes once again.
vegena meme would not stop it this time pic.twitter.com/TkNup8uWVk

— Crypto₿irb (@crypto_birb) June 16, 2019
He's getting ready pic.twitter.com/DBp16frSP4

— Dr. Squeeze [LTC] (@cryptoSqueeze) June 15, 2019
Just for the record, at publishing time, BTC is trading at $8,997.18. Here we go!

Say goodbye to the bears pic.twitter.com/zUYF2U9XTO

— Moon Overlord (@MoonOverlord) June 16, 2019
Follow Chepicap now on Twitter, YouTube, Telegram and Facebook!
EXCLUSIVE: Peter McCormack: "Bitcoin will lead to less wars, less bombs, less BULLSH*T!" | Chepicap Subscribe to the Chepicap YouTube Channel for more videos!