Bitcoin hashrate hits all-time-high, price spikes over $8,800
With Bitcoin leading another pull upwards for the whole crypto market, hash rate for the leading digital asset by market cap has just marked a new record.
Following the historic increase in hash rate, Bitcoin appears to be undergoing another bull run that has left its price closing in to $8,800 at writing time, for the highest mark in the last two weeks, with the rest of the top 10 cryptos by market cap taking similar gains, as Litecoin and EOS lead the group .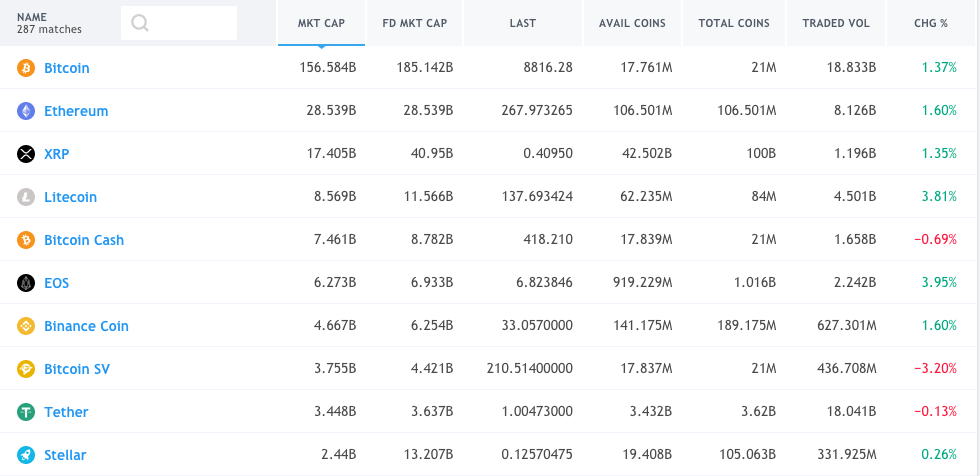 Chart provided by Tradingview
The all-time-high came in play just a few hours ago, when the estimated number of trillions of hashes per second soared to 62,246,627, slightly above previous highs reached back in late August of 2018.

The screenshot above, taken from blockchain.com, shows a clearly ascending pattern over the last two years in the amount of computing power available for Bitcoin mining and transaction processing.
Regardless of the increase in Bitcoin's hash rate, transactions are still recovering from lows recorded over the first half of 2018. The 2019 highs, slightly over 450,000 transactions on mid-May, were still sensibly lower than all-time-highs for transactions reached on late December of 2017, as the following graph taken from the same source shows:

Crypto Twitter already noted the peak in hash power, with plenty of surprised and bullish reactions:
#Bitcoin breaking yearly price highs, hash rate highs, and daily active address highs all in the same day.

Bullish.

— Vortex (@theonevortex) June 15, 2019
Holy hashrate! New ATH hit over night. #Bitcoin #stackingsats pic.twitter.com/XLHlJYKqW7

— Marty Bent (@MartyBent) June 15, 2019
Never seen the hashrate this high. Is this real life ??!🙉😱🤯 #bitcoin pic.twitter.com/Z3gGYZjBWl

— ⚡⚡TheApostol⚡⚡ (@APOSTOL11778943) June 15, 2019
On Reddit, it appears as if u/ArmoredSheep saw the event in Bitcoin's computing power coming a couple days before it took place, as he opened a thread with the following title:
ATH Bitcoin Hashrate Imminent from r/Bitcoin
Hash rate all-time-highs being reached across a handful of the leading cryptos, such as Litecoin just a few days ago, appear to be a positive indicator of the market's recovery, given that price records are still far in most cases despite the general bullish sentiment being solid.
Follow Chepicap now on Twitter, YouTube, Telegram and Facebook!
EXCLUSIVE: Peter McCormack: "Bitcoin will lead to less wars, less bombs, less BULLSH*T!" | Chepicap Subscribe to the Chepicap YouTube Channel for more videos!