Most altcoins take significant beating, while BTC holds around $8,400
Most of the top 100 cryptocurrencies are showing red candlesticks across the board, while the number one cryptocurrency is fighting hard to hold the $8,400 price mark.
Bitcoin experienced a sudden boost on Friday, bringing its price to its intraday high of $8,450, showing a 2.5% gain on the day, while currently sitting just below the $8,400 price mark.
One Bitcoin is now trading at $8,393.47, at writing time.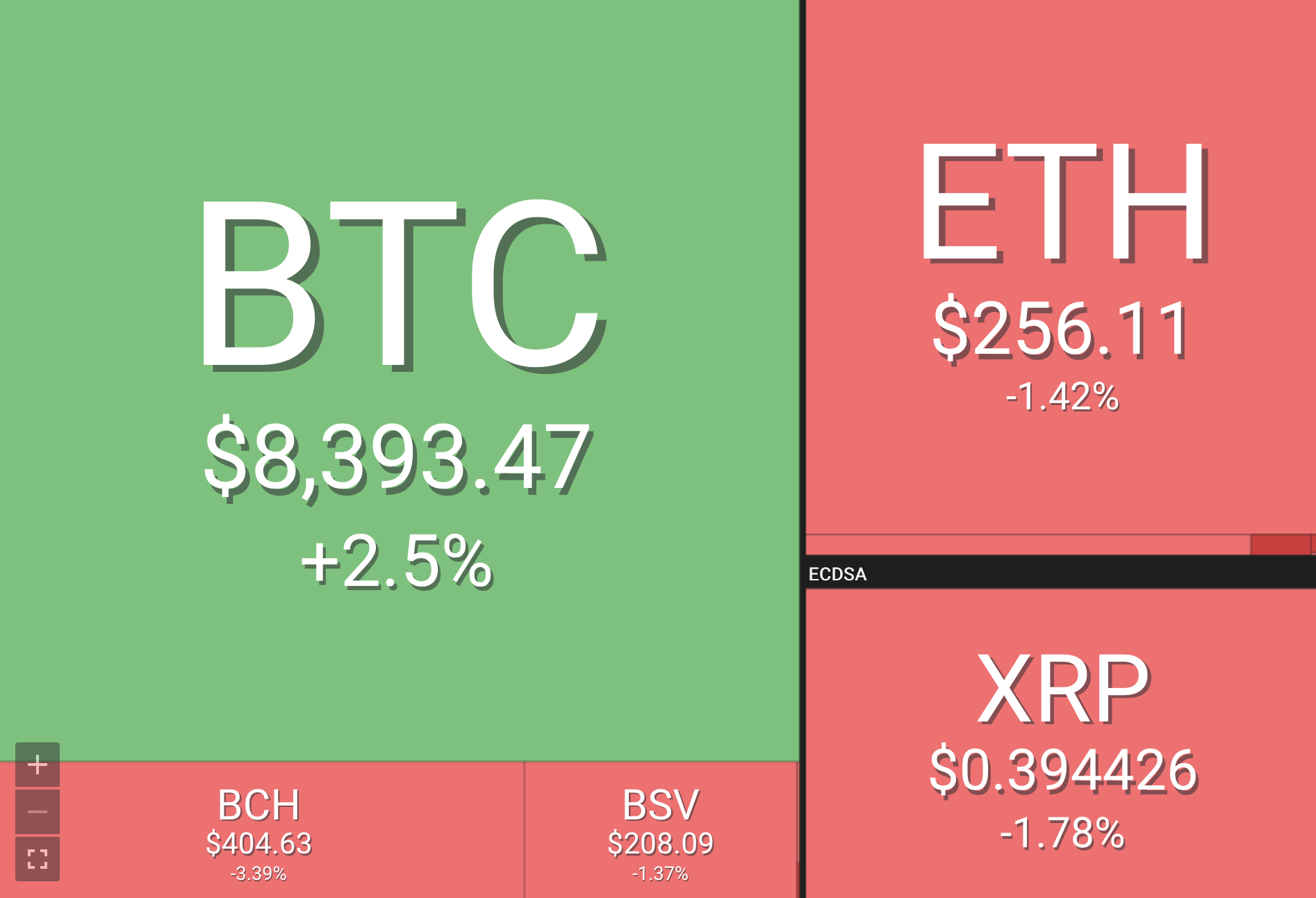 The entire altcoin market on the other hand, is taking a significant beating, following the recent Binance news to update their terms of use for traders on the exchange.
Trader Alex Kruger took to Twitter today, to warn that Binance's decision may have had unintended consequences for the global crypto market, and to suggest that a possible 'altcoin winter' is on its way.
He as well suggests to 'sell everything, buy BTC and exit Binance' if you are a US citizen.
That is one 'helluva' warning.
#AltsWinter is coming. Good for $BTC and the majors. https://t.co/2ExRDPOy1F

— Alex Krüger (@krugermacro) June 14, 2019
If you hold "small caps" in Binance, and are concerned about the news, maybe because you are a US resident who fears getting funds stuck without KYC, or maybe because you think ahead, yet want crypto exposure, what do you do?

Sell everything, buy $BTC (or $ETH), exit Binance. pic.twitter.com/LOohWw5Nvu

— Alex Krüger (@krugermacro) June 14, 2019
The largest altcoin by market cap, Ethereum, is currently seeing a loss of 1.32%, and is trading at $256.28 per coin, while the number two altcoin, Ripple's XRP, has recorded a loss of around 1.7%. On the week, XRP is down about 4.19%.
Among the top 20 cryptocurrencies, the one coin that is reporting the biggest loss is binance coin (BNB), which is down over 6.6% on the day.
The biggest gainer of the day is Chainlink, which is still rallying on yesterday's news about its partnership with Google, and is showing more than 18% gain on the day, while trading at around $1.74 per coin.
The biggest loser of the day is Aurora, which saw a huge drop of more than 41%, after the coin pumped more than 55% in less than 24 hours on June 13.
The total market capitalization of all cryptocurrencies is currently sitting at $264 billion.
Follow Chepicap now on Twitter, YouTube, Telegram and Facebook!
EXCLUSIVE: Peter McCormack: "Bitcoin will lead to less wars, less bombs, less BULLSH*T!" | Chepicap Subscribe to the Chepicap YouTube Channel for more videos!