Bloomberg analyst feels that next Bitcoin rally won't be like last two
Bloomberg recently ran an article in which the author, Aaron Brown, makes the case that the next bull run on the Bitcoin market will be less volatile than the last one, or the one before that. The argument is that the market is much larger now and less prone to FOMO and other reactionary behavior.
The article opens by saying that if history were to repeat itself, then Bitcoin would likely run up somewhere around $400,000 before crashing 85% again. However, it is pointed out that in 2013 before the bull run the market cap of Bitcoin was only $1 billion. In 2015 it was only $3 billion. Now, in 2019 it is sitting around $260 billion, not to mention the fact that now there is a far more robust crypto ecosystem as well as many more major players in the space.
One place that Brown finds evidence for decreased volatility is in the options market. As the article explains:
"In late November 2017, when cryptocurrency prices were similar to those now, there was active trading in $10,000 one-month Bitcoin calls at implied volatility above 300%. That means paying $2,200 for the right to buy Bitcoin at $10,000 when it is selling for $8,000. Bitcoin has to go to $12,200, a more than 50% increase in a month, just to break even on this contract."
Brown goes on to say that in the current options market, though the contracts can still be volatile, it is far more stable than in 2017:
"Today the contract sells for a more reasonable $200 at about 85% implied volatility. That suggests a 15% chance of Bitcoin going above $10,000 in a month and an expected price of only a little more than $11,000 if it does. If it doesn't, the expected price is around $7,500. That's a volatile investment, but nothing like 2017."
Furthermore, Brown points to Bitcoin's correlation with the S&P 500, noting that it is only when the correlation is near zero that we see rapid price movements in Bitcoin, but as of now the correlation is at a -.20, a level that usually sees low volatility: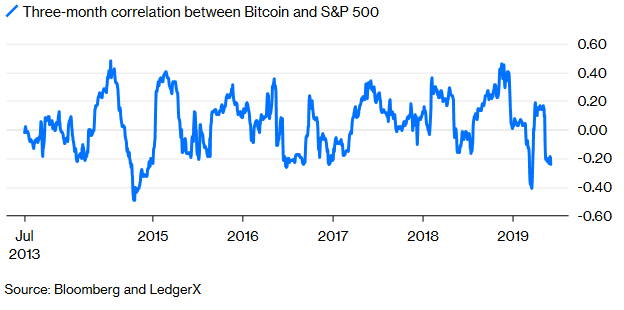 Based upon the evidence, Brown thinks it likely that the coming boom and bust will be less intense than we have seen on previous cycles. Note that the author still believes the price will rise, but will be less of a "bubble" this time.
Only time will tell if this prediction will hold true, but it would arguably be in the best interests of Bitcoin to see less volatility as it grows. It also makes sense economically, as a larger market cap should mean a harder to move price.
Will this next bull run be more subdued? Stick with Chepicap for all updates!
Follow Chepicap now on Twitter, YouTube, Telegram and Facebook!
EXCLUSIVE: Peter McCormack: "Bitcoin will lead to less wars, less bombs, less BULLSH*T!" | Chepicap Subscribe to the Chepicap YouTube Channel for more videos!