Weiss Ratings gives Bitcoin a solid 'B', time to buy?
Weiss Ratings, the prominent rating agency, has upgraded Bitcoin's overall rating to a solid 'B' and recommends to wait for a substantial price correction and then buy BTC with funds you can afford to risk.
The independent rating giant, announced today that Bitcoin's overall Weiss Crypto Rating is 'B', which stands for 'good'.
Bitcoin is now rated 'B'. Our recommendation: Wait for a substantial price correction. Then buy with funds you can afford to risk. Find out more details about our rating of BTC:

žhttps://t.co/gbQDRwVsTx#BTC #Bitcoin #WeissRatings #crypto #cryptocurrency

— Weiss Ratings (@WeissRatings) June 13, 2019
In the beginning of January, 2018, the rating giant gave a 'C+' Weiss Rating for Bitcoin.
'Now, however, the tides have changed, and dramatically so', Weiss stated.
Weiss Raytings goes on to say that since early 2019, leading cryptocurrencies have experienced a unique convergence of three factors, being a vastly improved adoption, a significant evolution of technology with upgrades in Bitcoin, and last but not least, bargain-basement prices.
'In short, we heralded the beginning of a new bull market, supported by the best combination of fundamentals and value in many years.'
From the table below, we can now see that Bitcoin leads the Weiss Ratings list of top-rated coins.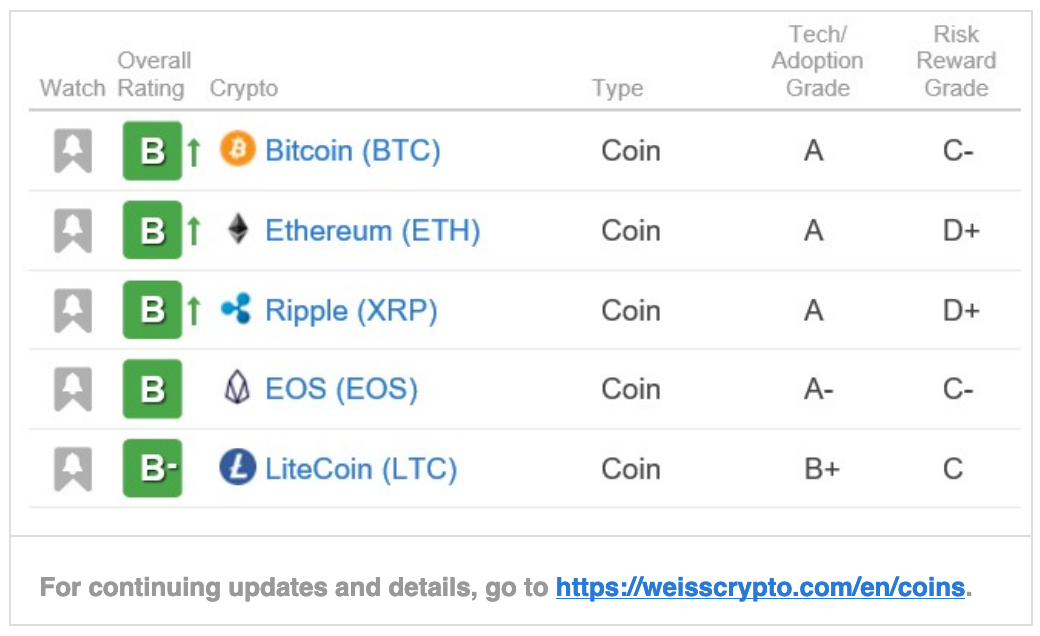 According to the rating agency, Bitcoin excels in adoption, despite the fact that the world's number one still has many issues to address, such as scalability, privacy, and its energy consumption.
'Its technological deficiencies are being addressed. And its risk/reward metrics should continue to improve as a sustainable bull market unfolds', the agency added.
So is it time to buy? Their recommendation: 'Wait for a substantial price correction. Then buy with funds you can afford to risk.'
That is always sound advice!
Follow Chepicap now on Twitter, YouTube, Telegram and Facebook!
EXCLUSIVE: Peter McCormack: "Bitcoin will lead to less wars, less bombs, less BULLSH*T!" | Chepicap Subscribe to the Chepicap YouTube Channel for more videos!